Overall summary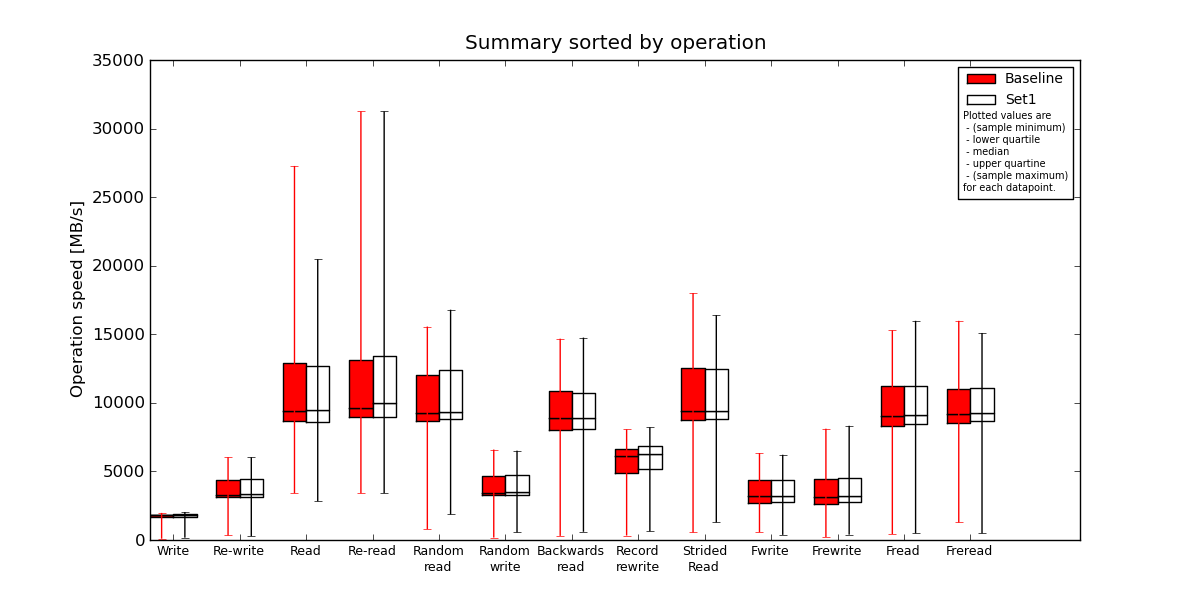 Operation
Write
Re-write
Read
Re-read
Random read
Random write
Backwards read
Record rewrite
Strided Read
Fwrite
Frewrite
Fread
Freread
baeline
mean val.
1664.37
3629.95
10320.63
10727.36
9867.2
3828.22
8945.83
5613.75
9953.03
3432.15
3537.89
9431.01
9415.93
standard dev.
357.34
937.77
2902.99
3022.75
2728.5
1009.35
2860.13
1474.34
2905.86
1045.89
1259.11
2737.47
2443.76
ci. min. 90%
1643.76
3575.86
10153.18
10553.0
9709.81
3770.0
8780.85
5528.71
9785.41
3371.82
3465.26
9273.11
9274.96
ci. max. 90%
1684.98
3684.04
10488.08
10901.72
10024.58
3886.44
9110.81
5698.8
10120.64
3492.48
3610.52
9588.91
9556.89
geom. mean
1590.13
3472.17
9877.16
10280.61
9389.44
3665.06
8270.09
5319.89
9403.1
3252.94
3295.98
8897.8
9030.45
median
1805.08
3282.89
9402.42
9643.67
9263.93
3421.53
8917.58
6113.7
9374.45
3178.47
3120.79
9061.08
9163.51
first quartile
1654.35
3142.2
8652.03
8945.55
8692.02
3246.42
7984.45
4855.84
8714.55
2708.75
2643.9
8347.78
8553.96
third quartile
1848.16
4392.8
12874.89
13089.76
12041.75
4635.71
10877.02
6649.2
12514.27
4370.86
4464.37
11207.29
11007.17
minimum
92.67
328.32
3409.29
3409.29
787.48
178.46
298.95
325.06
549.69
568.78
216.13
433.37
1279.43
maximum
1974.61
6037.35
27274.3
31250.0
15564.68
6595.07
14679.48
8064.04
18008.81
6341.06
8115.82
15285.21
15981.61
set1
mean val.
1697.2
3724.43
10341.62
10937.11
10068.7
3913.99
8943.1
5834.82
10043.43
3507.34
3637.96
9543.99
9563.22
standard dev.
350.64
932.64
2744.31
3215.99
2599.65
1002.13
2733.18
1457.05
2806.67
1022.81
1208.1
2504.48
2337.1
ci. min. 90%
1676.97
3670.63
10183.32
10751.6
9918.75
3856.19
8785.44
5750.77
9881.53
3448.34
3568.27
9399.52
9428.41
ci. max. 90%
1717.42
3778.23
10499.92
11122.61
10218.66
3971.8
9100.76
5918.86
10205.32
3566.34
3707.64
9688.45
9698.03
geom. mean
1633.35
3585.07
9943.36
10461.23
9670.08
3779.34
8312.21
5577.29
9559.26
3340.03
3436.88
9096.36
9207.23
median
1814.1
3363.25
9513.47
10004.95
9336.74
3466.99
8885.81
6277.27
9399.67
3233.32
3207.61
9105.62
9227.97
first quartile
1674.42
3157.52
8633.6
8937.01
8819.06
3280.38
8087.62
5173.82
8833.93
2786.04
2737.7
8437.06
8707.59
third quartile
1894.69
4460.83
12657.21
13425.95
12371.17
4722.55
10689.04
6872.43
12504.75
4387.31
4537.32
11233.44
11047.03
minimum
169.25
278.61
2824.65
3409.29
1860.61
549.69
597.89
634.9
1279.43
373.19
391.91
483.26
483.26
maximum
2042.41
6027.14
20470.89
31250.0
16791.84
6513.38
14758.21
8219.22
16396.44
6215.57
8328.45
15981.61
15095.53
linear regression slope 90%
TODO
TODO
TODO
TODO
TODO
TODO
TODO
TODO
TODO
TODO
TODO
TODO
TODO
baseline set1 difference
0.5 %
2.45 %
1.18 %
3.75 %
0.79 %
1.33 %
-0.36 %
2.68 %
0.27 %
1.73 %
2.78 %
0.49 %
0.7 %
ttest p-value
0.0614
0.0416
0.8808
0.1751
0.1271
0.0853
0.9843
0.0024
0.523
0.1425
0.1018
0.3848
0.2139
ttest equality
DIFF
DIFF
SAME
SAME
SAME
DIFF
SAME
DIFF
SAME
SAME
SAME
SAME
SAME
---
Write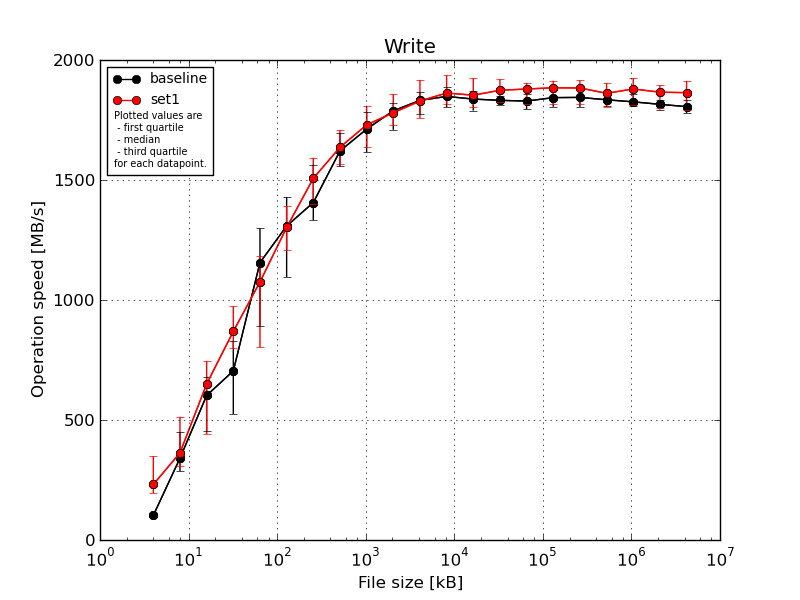 Write
File size [kB]
4
8
16
32
64
128
256
512
1024
2048
4096
8192
16384
32768
65536
131072
262144
524288
1048576
2097152
4194304
baseline
mean val.
128.12
372.53
564.21
704.22
1098.97
1291.82
1428.16
1613.74
1688.96
1743.41
1813.29
1836.63
1821.63
1835.42
1813.15
1836.51
1841.07
1831.68
1828.37
1812.63
1807.28
standard dev.
65.6
101.34
160.69
183.28
224.85
208.97
164.47
123.32
144.49
147.39
104.68
90.73
87.8
46.88
99.69
68.64
65.85
54.65
60.0
69.23
64.35
ci. min. 90%
65.57
313.78
491.13
633.35
1022.03
1226.99
1381.15
1580.89
1652.77
1708.46
1789.67
1817.06
1803.46
1823.68
1788.18
1819.32
1824.57
1817.99
1813.34
1795.29
1791.16
ci. max. 90%
190.67
431.27
637.29
775.08
1175.91
1356.65
1475.16
1646.59
1725.15
1778.35
1836.92
1856.2
1839.81
1847.16
1838.12
1853.7
1857.56
1845.36
1843.4
1829.97
1823.4
geom. mean
118.46
360.82
540.09
681.75
1075.28
1274.88
1418.51
1608.96
1682.46
1736.65
1810.21
1834.35
1819.47
1834.83
1810.17
1835.22
1839.88
1830.86
1827.39
1811.28
1806.14
median
102.52
340.99
602.32
704.39
1155.81
1308.38
1405.96
1620.92
1712.1
1788.31
1831.61
1848.24
1837.2
1831.93
1828.88
1843.21
1844.18
1834.24
1825.64
1815.31
1805.66
first quartile
97.64
286.78
452.67
524.79
892.24
1095.84
1332.71
1556.84
1615.8
1709.32
1775.41
1803.12
1789.15
1811.92
1794.93
1805.0
1804.58
1806.63
1808.42
1793.65
1778.75
third quartile
102.52
449.74
680.52
829.33
1298.99
1429.46
1563.21
1695.62
1782.68
1822.2
1866.04
1886.29
1870.69
1852.08
1859.54
1880.64
1884.97
1862.07
1859.24
1832.19
1834.32
minimum
92.67
260.46
312.36
480.46
718.58
939.91
950.83
1265.78
1303.87
1277.04
1488.69
1579.12
1553.27
1728.14
1415.74
1581.05
1584.41
1645.69
1656.7
1571.49
1588.8
maximum
245.25
557.22
782.0
1041.86
1418.48
1624.16
1762.89
1838.31
1904.94
1922.75
1973.37
1973.81
1974.61
1928.75
1922.27
1959.25
1947.85
1929.47
1933.14
1914.79
1962.77
set1
mean val.
128.12
372.53
564.21
704.22
1098.97
1291.82
1428.16
1613.74
1688.96
1743.41
1813.29
1836.63
1821.63
1835.42
1813.15
1836.51
1841.07
1831.68
1828.37
1812.63
1807.28
standard dev.
65.6
101.34
160.69
183.28
224.85
208.97
164.47
123.32
144.49
147.39
104.68
90.73
87.8
46.88
99.69
68.64
65.85
54.65
60.0
69.23
64.35
ci. min. 90%
65.57
313.78
491.13
633.35
1022.03
1226.99
1381.15
1580.89
1652.77
1708.46
1789.67
1817.06
1803.46
1823.68
1788.18
1819.32
1824.57
1817.99
1813.34
1795.29
1791.16
ci. max. 90%
190.67
431.27
637.29
775.08
1175.91
1356.65
1475.16
1646.59
1725.15
1778.35
1836.92
1856.2
1839.81
1847.16
1838.12
1853.7
1857.56
1845.36
1843.4
1829.97
1823.4
geom. mean
118.46
360.82
540.09
681.75
1075.28
1274.88
1418.51
1608.96
1682.46
1736.65
1810.21
1834.35
1819.47
1834.83
1810.17
1835.22
1839.88
1830.86
1827.39
1811.28
1806.14
median
102.52
340.99
602.32
704.39
1155.81
1308.38
1405.96
1620.92
1712.1
1788.31
1831.61
1848.24
1837.2
1831.93
1828.88
1843.21
1844.18
1834.24
1825.64
1815.31
1805.66
first quartile
97.64
286.78
452.67
524.79
892.24
1095.84
1332.71
1556.84
1615.8
1709.32
1775.41
1803.12
1789.15
1811.92
1794.93
1805.0
1804.58
1806.63
1808.42
1793.65
1778.75
third quartile
102.52
449.74
680.52
829.33
1298.99
1429.46
1563.21
1695.62
1782.68
1822.2
1866.04
1886.29
1870.69
1852.08
1859.54
1880.64
1884.97
1862.07
1859.24
1832.19
1834.32
minimum
92.67
260.46
312.36
480.46
718.58
939.91
950.83
1265.78
1303.87
1277.04
1488.69
1579.12
1553.27
1728.14
1415.74
1581.05
1584.41
1645.69
1656.7
1571.49
1588.8
maximum
245.25
557.22
782.0
1041.86
1418.48
1624.16
1762.89
1838.31
1904.94
1922.75
1973.37
1973.81
1974.61
1928.75
1922.27
1959.25
1947.85
1929.47
1933.14
1914.79
1962.77
baseline set1 difference
-55.69 %
-6.1 %
-7.35 %
-18.96 %
7.5 %
0.48 %
-6.7 %
-0.93 %
-1.02 %
0.46 %
0.14 %
-0.76 %
-0.87 %
-2.24 %
-2.67 %
-2.18 %
-2.09 %
-1.44 %
-2.86 %
-2.71 %
-3.13 %
ttest p-value
0.0295
0.5432
0.5271
0.0063
0.2816
0.8709
0.0971
0.4829
0.2808
0.3105
0.4839
0.2609
0.064
0.002
0.0023
0.0286
0.0427
0.0196
0.0025
0.0088
0.0188
ttest equality
DIFF
SAME
SAME
DIFF
SAME
SAME
DIFF
SAME
SAME
SAME
SAME
SAME
DIFF
DIFF
DIFF
DIFF
DIFF
DIFF
DIFF
DIFF
DIFF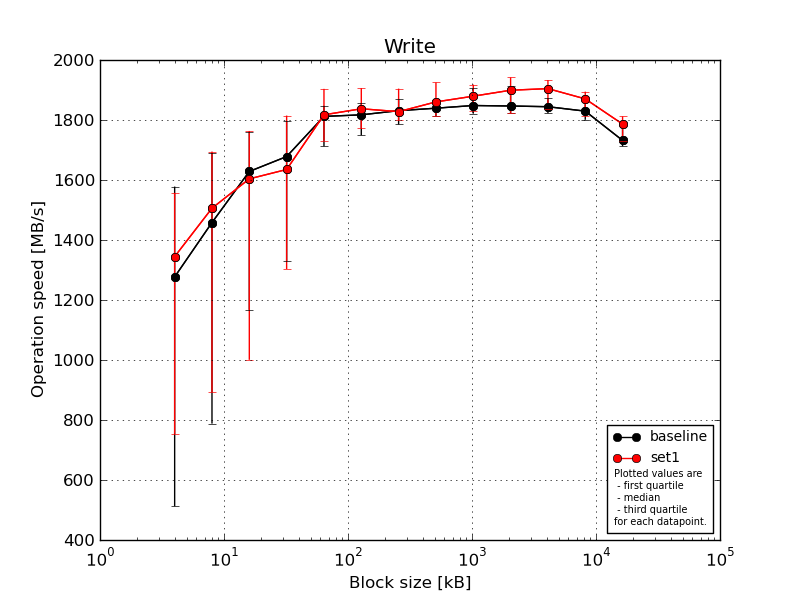 Write
Block size [kB]
4
8
16
32
64
128
256
512
1024
2048
4096
8192
16384
baseline
mean val.
1094.89
1254.11
1411.4
1531.12
1731.93
1773.78
1798.06
1830.94
1853.98
1863.08
1850.75
1832.58
1733.6
standard dev.
535.46
484.5
432.8
339.0
198.95
138.82
124.04
89.5
77.82
55.75
43.99
42.95
72.14
ci. min. 90%
984.04
1149.58
1313.74
1450.75
1696.04
1747.95
1774.2
1813.11
1837.87
1851.06
1840.82
1822.4
1715.54
ci. max. 90%
1205.74
1358.63
1509.07
1611.5
1767.82
1799.61
1821.91
1848.78
1870.09
1875.11
1860.68
1842.76
1751.67
geom. mean
877.66
1130.6
1324.14
1486.12
1718.82
1767.78
1793.35
1828.52
1852.21
1862.27
1850.24
1832.09
1732.11
median
1277.04
1458.18
1628.47
1678.16
1811.95
1817.23
1831.08
1839.35
1848.3
1846.68
1844.3
1829.52
1731.92
first quartile
512.39
788.04
1167.25
1330.0
1712.23
1749.0
1785.11
1811.84
1821.15
1823.41
1822.56
1800.7
1712.48
third quartile
1578.07
1690.29
1760.77
1796.46
1847.46
1856.04
1870.47
1865.4
1906.79
1911.78
1872.99
1868.21
1783.22
minimum
92.67
312.65
504.88
718.58
1026.39
1276.24
1322.61
1362.76
1402.4
1742.25
1761.88
1761.72
1571.49
maximum
1679.94
1796.97
1864.56
1926.02
1951.66
1923.02
1952.62
1964.59
1974.61
1967.58
1957.03
1936.56
1852.11
set1
mean val.
1094.89
1254.11
1411.4
1531.12
1731.93
1773.78
1798.06
1830.94
1853.98
1863.08
1850.75
1832.58
1733.6
standard dev.
535.46
484.5
432.8
339.0
198.95
138.82
124.04
89.5
77.82
55.75
43.99
42.95
72.14
ci. min. 90%
984.04
1149.58
1313.74
1450.75
1696.04
1747.95
1774.2
1813.11
1837.87
1851.06
1840.82
1822.4
1715.54
ci. max. 90%
1205.74
1358.63
1509.07
1611.5
1767.82
1799.61
1821.91
1848.78
1870.09
1875.11
1860.68
1842.76
1751.67
geom. mean
877.66
1130.6
1324.14
1486.12
1718.82
1767.78
1793.35
1828.52
1852.21
1862.27
1850.24
1832.09
1732.11
median
1277.04
1458.18
1628.47
1678.16
1811.95
1817.23
1831.08
1839.35
1848.3
1846.68
1844.3
1829.52
1731.92
first quartile
512.39
788.04
1167.25
1330.0
1712.23
1749.0
1785.11
1811.84
1821.15
1823.41
1822.56
1800.7
1712.48
third quartile
1578.07
1690.29
1760.77
1796.46
1847.46
1856.04
1870.47
1865.4
1906.79
1911.78
1872.99
1868.21
1783.22
minimum
92.67
312.65
504.88
718.58
1026.39
1276.24
1322.61
1362.76
1402.4
1742.25
1761.88
1761.72
1571.49
maximum
1679.94
1796.97
1864.56
1926.02
1951.66
1923.02
1952.62
1964.59
1974.61
1967.58
1957.03
1936.56
1852.11
baseline set1 difference
-5.03 %
-3.17 %
1.54 %
2.64 %
-0.29 %
-1.1 %
0.18 %
-1.13 %
-1.65 %
-2.77 %
-3.17 %
-2.18 %
-3.05 %
ttest p-value
0.5054
0.5838
0.9538
0.8849
0.3715
0.0903
0.0115
0.0232
0.087
0.0497
0.0001
0.0036
0.004
ttest equality
SAME
SAME
SAME
SAME
SAME
DIFF
DIFF
DIFF
DIFF
DIFF
DIFF
DIFF
DIFF
Back on top
---
Re-write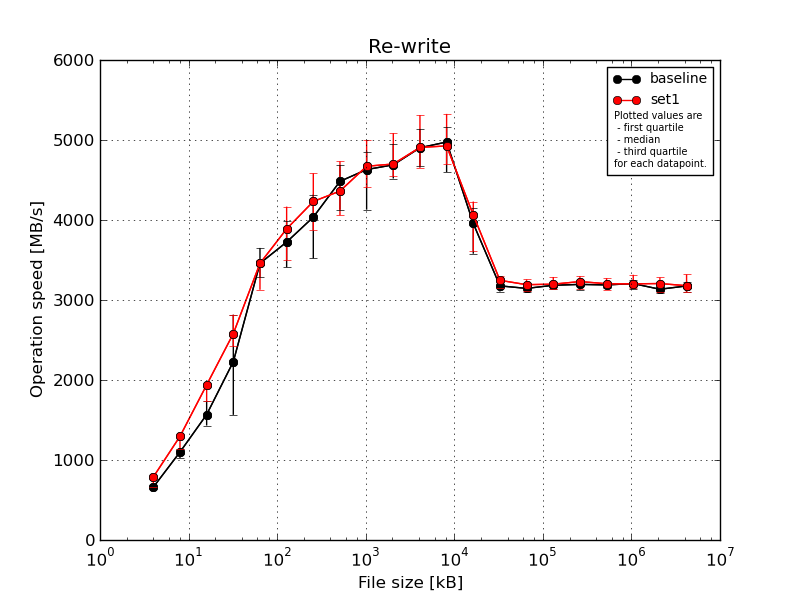 Re-write
File size [kB]
4
8
16
32
64
128
256
512
1024
2048
4096
8192
16384
32768
65536
131072
262144
524288
1048576
2097152
4194304
baseline
mean val.
718.26
984.22
1495.3
2068.75
3372.64
3685.96
3863.19
4399.93
4478.12
4633.95
4865.8
4892.04
3837.76
3158.21
3113.9
3158.95
3158.76
3160.67
3160.14
3095.84
3132.6
standard dev.
143.9
317.13
380.44
811.15
451.03
426.47
578.2
446.87
503.3
485.33
431.98
474.78
393.42
106.19
167.55
124.47
133.75
125.28
148.74
174.14
154.44
ci. min. 90%
581.06
800.39
1322.29
1755.12
3218.31
3553.66
3697.93
4280.88
4352.05
4518.87
4768.32
4789.62
3756.31
3131.61
3071.93
3127.77
3125.25
3129.29
3122.88
3052.22
3093.91
ci. max. 90%
855.45
1168.05
1668.31
2382.38
3526.97
3818.26
4028.45
4518.98
4604.18
4749.02
4963.29
4994.47
3919.2
3184.8
3155.87
3190.12
3192.26
3192.05
3197.39
3139.46
3171.28
geom. mean
708.36
914.59
1435.43
1870.94
3341.22
3660.77
3815.98
4375.98
4448.19
4606.72
4846.06
4868.75
3816.73
3156.43
3109.1
3156.42
3155.87
3158.1
3156.51
3090.58
3128.6
median
660.49
1099.39
1567.63
2228.9
3458.1
3724.24
4036.0
4483.04
4630.47
4689.51
4903.03
4974.92
3956.47
3176.76
3144.94
3183.91
3195.01
3188.52
3204.93
3134.33
3175.51
first quartile
660.49
1023.98
1430.74
1564.0
3284.78
3409.21
3521.01
4127.87
4129.04
4518.48
4670.44
4598.98
3578.6
3105.61
3104.67
3135.64
3125.11
3147.86
3135.7
3093.15
3099.34
third quartile
660.49
1137.55
1733.5
2815.63
3650.74
3985.68
4318.58
4685.9
4855.61
4949.68
5138.81
5160.19
4146.16
3222.92
3207.85
3229.96
3249.3
3217.21
3255.98
3189.91
3231.19
minimum
634.9
328.32
625.31
652.73
2083.72
2547.49
2213.09
3103.19
3402.24
3086.54
3759.34
3641.36
2935.8
2885.48
2434.37
2680.4
2700.59
2677.44
2645.83
2434.09
2568.52
maximum
974.91
1320.99
1938.61
3135.27
4457.8
4488.55
4706.23
5104.97
5097.56
5526.8
5691.42
6037.35
4432.32
3357.81
3322.6
3311.34
3341.99
3317.59
3332.33
3278.47
3361.94
set1
mean val.
718.26
984.22
1495.3
2068.75
3372.64
3685.96
3863.19
4399.93
4478.12
4633.95
4865.8
4892.04
3837.76
3158.21
3113.9
3158.95
3158.76
3160.67
3160.14
3095.84
3132.6
standard dev.
143.9
317.13
380.44
811.15
451.03
426.47
578.2
446.87
503.3
485.33
431.98
474.78
393.42
106.19
167.55
124.47
133.75
125.28
148.74
174.14
154.44
ci. min. 90%
581.06
800.39
1322.29
1755.12
3218.31
3553.66
3697.93
4280.88
4352.05
4518.87
4768.32
4789.62
3756.31
3131.61
3071.93
3127.77
3125.25
3129.29
3122.88
3052.22
3093.91
ci. max. 90%
855.45
1168.05
1668.31
2382.38
3526.97
3818.26
4028.45
4518.98
4604.18
4749.02
4963.29
4994.47
3919.2
3184.8
3155.87
3190.12
3192.26
3192.05
3197.39
3139.46
3171.28
geom. mean
708.36
914.59
1435.43
1870.94
3341.22
3660.77
3815.98
4375.98
4448.19
4606.72
4846.06
4868.75
3816.73
3156.43
3109.1
3156.42
3155.87
3158.1
3156.51
3090.58
3128.6
median
660.49
1099.39
1567.63
2228.9
3458.1
3724.24
4036.0
4483.04
4630.47
4689.51
4903.03
4974.92
3956.47
3176.76
3144.94
3183.91
3195.01
3188.52
3204.93
3134.33
3175.51
first quartile
660.49
1023.98
1430.74
1564.0
3284.78
3409.21
3521.01
4127.87
4129.04
4518.48
4670.44
4598.98
3578.6
3105.61
3104.67
3135.64
3125.11
3147.86
3135.7
3093.15
3099.34
third quartile
660.49
1137.55
1733.5
2815.63
3650.74
3985.68
4318.58
4685.9
4855.61
4949.68
5138.81
5160.19
4146.16
3222.92
3207.85
3229.96
3249.3
3217.21
3255.98
3189.91
3231.19
minimum
634.9
328.32
625.31
652.73
2083.72
2547.49
2213.09
3103.19
3402.24
3086.54
3759.34
3641.36
2935.8
2885.48
2434.37
2680.4
2700.59
2677.44
2645.83
2434.09
2568.52
maximum
974.91
1320.99
1938.61
3135.27
4457.8
4488.55
4706.23
5104.97
5097.56
5526.8
5691.42
6037.35
4432.32
3357.81
3322.6
3311.34
3341.99
3317.59
3332.33
3278.47
3361.94
baseline set1 difference
-16.13 %
-15.13 %
-19.14 %
-13.6 %
0.0 %
-4.24 %
-4.62 %
2.78 %
-0.88 %
-0.22 %
-0.09 %
0.99 %
-2.64 %
-2.14 %
-1.46 %
-0.44 %
-1.09 %
-0.47 %
0.08 %
-2.23 %
-0.11 %
ttest p-value
0.8814
0.0439
0.034
0.0063
0.3389
0.3002
0.0081
0.9225
0.0792
0.1535
0.4874
0.505
0.1313
0.0148
0.0364
0.183
0.0874
0.551
0.095
0.0766
0.3337
ttest equality
SAME
DIFF
DIFF
DIFF
SAME
SAME
DIFF
SAME
DIFF
SAME
SAME
SAME
SAME
DIFF
DIFF
SAME
DIFF
SAME
DIFF
DIFF
SAME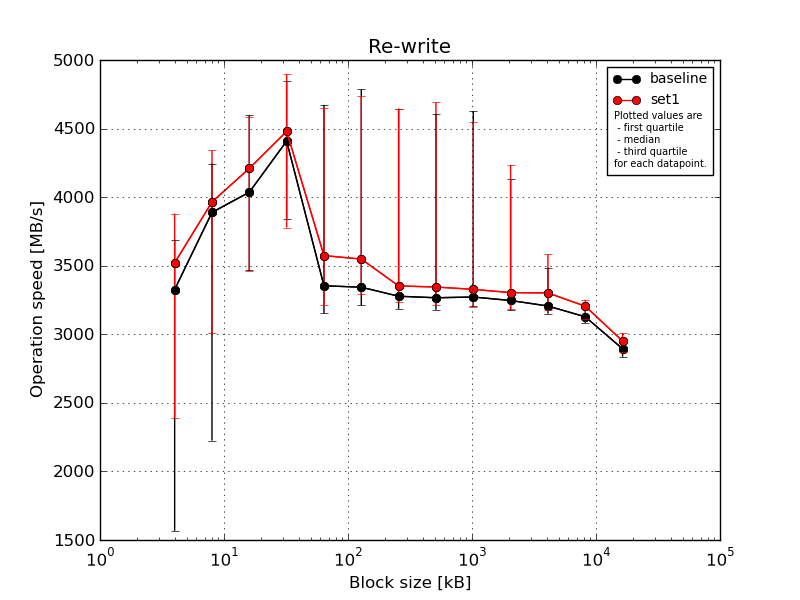 Re-write
Block size [kB]
4
8
16
32
64
128
256
512
1024
2048
4096
8192
16384
baseline
mean val.
2831.25
3377.62
3823.84
4251.66
3858.24
3936.26
3857.41
3807.4
3771.03
3673.09
3513.49
3249.1
2865.56
standard dev.
1202.85
1270.75
1092.18
847.47
833.2
856.94
812.16
778.3
784.02
729.91
630.99
407.32
119.33
ci. min. 90%
2582.24
3103.48
3577.37
4050.73
3707.93
3776.79
3701.2
3652.31
3608.73
3515.62
3371.1
3152.53
2835.67
ci. max. 90%
3080.26
3651.77
4070.3
4452.6
4008.55
4095.72
4013.62
3962.49
3933.34
3830.56
3655.88
3345.68
2895.45
geom. mean
2440.52
3017.91
3580.25
4148.73
3774.66
3849.29
3776.85
3733.48
3698.44
3609.8
3466.11
3227.58
2863.07
median
3326.37
3888.64
4036.0
4408.55
3353.87
3343.32
3277.44
3266.32
3271.77
3246.44
3206.1
3127.55
2894.03
first quartile
1567.63
2224.95
3467.34
3842.67
3152.88
3211.7
3186.08
3178.37
3207.85
3175.41
3150.25
3082.1
2835.7
third quartile
3689.55
4244.78
4595.86
4844.47
4672.74
4785.6
4645.49
4605.96
4627.04
4130.96
3483.71
3224.16
2956.65
minimum
328.32
483.26
800.17
1564.0
2547.49
2645.83
2434.37
2778.96
3112.38
3105.61
3078.31
2434.09
2568.52
maximum
4486.6
5198.36
5479.52
5891.08
5694.13
6037.35
5494.6
5526.8
5698.0
5333.2
5091.87
4681.27
3061.14
set1
mean val.
2831.25
3377.62
3823.84
4251.66
3858.24
3936.26
3857.41
3807.4
3771.03
3673.09
3513.49
3249.1
2865.56
standard dev.
1202.85
1270.75
1092.18
847.47
833.2
856.94
812.16
778.3
784.02
729.91
630.99
407.32
119.33
ci. min. 90%
2582.24
3103.48
3577.37
4050.73
3707.93
3776.79
3701.2
3652.31
3608.73
3515.62
3371.1
3152.53
2835.67
ci. max. 90%
3080.26
3651.77
4070.3
4452.6
4008.55
4095.72
4013.62
3962.49
3933.34
3830.56
3655.88
3345.68
2895.45
geom. mean
2440.52
3017.91
3580.25
4148.73
3774.66
3849.29
3776.85
3733.48
3698.44
3609.8
3466.11
3227.58
2863.07
median
3326.37
3888.64
4036.0
4408.55
3353.87
3343.32
3277.44
3266.32
3271.77
3246.44
3206.1
3127.55
2894.03
first quartile
1567.63
2224.95
3467.34
3842.67
3152.88
3211.7
3186.08
3178.37
3207.85
3175.41
3150.25
3082.1
2835.7
third quartile
3689.55
4244.78
4595.86
4844.47
4672.74
4785.6
4645.49
4605.96
4627.04
4130.96
3483.71
3224.16
2956.65
minimum
328.32
483.26
800.17
1564.0
2547.49
2645.83
2434.37
2778.96
3112.38
3105.61
3078.31
2434.09
2568.52
maximum
4486.6
5198.36
5479.52
5891.08
5694.13
6037.35
5494.6
5526.8
5698.0
5333.2
5091.87
4681.27
3061.14
baseline set1 difference
-5.53 %
-1.93 %
-4.12 %
-1.58 %
-6.16 %
-5.78 %
-2.24 %
-2.34 %
-1.68 %
-1.74 %
-2.9 %
-2.41 %
-1.92 %
ttest p-value
0.3531
0.3431
0.649
0.6949
0.3716
0.5645
0.6634
0.5635
0.6355
0.785
0.4788
0.5939
0.003
ttest equality
SAME
SAME
SAME
SAME
SAME
SAME
SAME
SAME
SAME
SAME
SAME
SAME
DIFF
Back on top
---
Read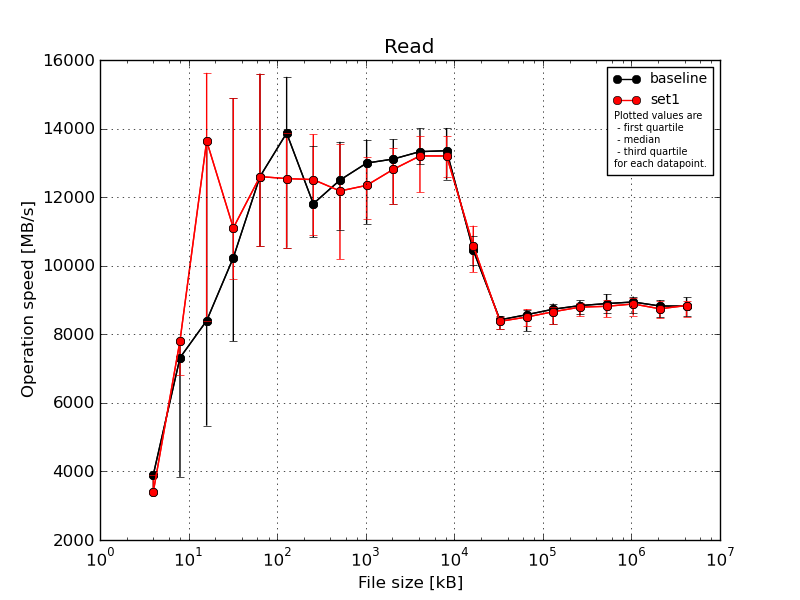 Read
File size [kB]
4
8
16
32
64
128
256
512
1024
2048
4096
8192
16384
32768
65536
131072
262144
524288
1048576
2097152
4194304
baseline
mean val.
3707.46
6124.27
9280.65
11594.35
13148.12
12779.26
11887.03
12176.3
12454.4
12796.96
13247.91
13234.79
10117.34
8021.28
7992.08
8203.68
8330.08
8416.35
8386.09
8247.31
8283.43
standard dev.
272.2
1993.52
4028.27
4811.28
3254.75
3158.24
2101.45
1824.74
1724.4
1264.09
1075.68
1190.57
1520.13
1071.67
1324.46
1369.92
1448.26
1473.33
1513.9
1565.58
1555.26
ci. min. 90%
3447.95
4968.66
7448.72
9734.09
12034.42
11799.52
11286.4
11690.18
12022.48
12497.24
13005.17
12977.94
9802.65
7752.86
7660.34
7860.55
7967.33
8047.32
8006.9
7855.17
7893.88
ci. max. 90%
3966.98
7279.88
11112.58
13454.61
14261.82
13759.0
12487.67
12662.41
12886.32
13096.67
13490.66
13491.64
10432.03
8289.71
8323.83
8546.81
8692.83
8785.38
8765.28
8639.44
8672.98
geom. mean
3699.32
5797.94
8498.97
10846.13
12773.24
12340.38
11685.87
12027.31
12326.58
12731.78
13200.52
13179.65
9971.45
7931.93
7849.64
8050.41
8160.71
8240.95
8202.61
8042.06
8081.43
median
3906.25
7315.54
8395.92
10235.44
12599.63
13867.96
11807.53
12497.5
12993.28
13111.31
13327.88
13353.37
10450.15
8420.81
8571.06
8731.76
8837.03
8895.7
8942.06
8825.42
8820.68
first quartile
3409.29
3840.41
5334.47
7799.26
10567.89
10526.67
10831.76
11049.85
11220.55
11806.06
12967.37
12510.92
10031.51
8148.83
8092.03
8296.08
8580.27
8632.76
8614.23
8503.04
8534.06
third quartile
3906.25
7812.5
13637.15
14884.91
15598.52
15508.87
13485.76
13613.92
13670.88
13688.85
14006.66
14017.2
10876.98
8521.87
8700.52
8894.36
8986.28
9173.17
9098.66
8999.23
9076.69
minimum
3409.29
3721.23
5117.72
6299.81
7754.43
5472.41
6103.27
7468.34
8131.56
9090.33
9280.43
9648.16
5519.36
5050.56
3742.68
3681.14
3623.2
3619.34
3613.8
3602.89
3597.33
maximum
3906.25
7812.5
15625.0
27274.3
20470.89
18200.84
14809.2
14788.91
14936.68
14593.81
14758.21
15295.08
11975.59
8849.44
8908.71
9236.52
9506.87
9531.8
9617.27
9412.8
9405.2
set1
mean val.
3707.46
6124.27
9280.65
11594.35
13148.12
12779.26
11887.03
12176.3
12454.4
12796.96
13247.91
13234.79
10117.34
8021.28
7992.08
8203.68
8330.08
8416.35
8386.09
8247.31
8283.43
standard dev.
272.2
1993.52
4028.27
4811.28
3254.75
3158.24
2101.45
1824.74
1724.4
1264.09
1075.68
1190.57
1520.13
1071.67
1324.46
1369.92
1448.26
1473.33
1513.9
1565.58
1555.26
ci. min. 90%
3447.95
4968.66
7448.72
9734.09
12034.42
11799.52
11286.4
11690.18
12022.48
12497.24
13005.17
12977.94
9802.65
7752.86
7660.34
7860.55
7967.33
8047.32
8006.9
7855.17
7893.88
ci. max. 90%
3966.98
7279.88
11112.58
13454.61
14261.82
13759.0
12487.67
12662.41
12886.32
13096.67
13490.66
13491.64
10432.03
8289.71
8323.83
8546.81
8692.83
8785.38
8765.28
8639.44
8672.98
geom. mean
3699.32
5797.94
8498.97
10846.13
12773.24
12340.38
11685.87
12027.31
12326.58
12731.78
13200.52
13179.65
9971.45
7931.93
7849.64
8050.41
8160.71
8240.95
8202.61
8042.06
8081.43
median
3906.25
7315.54
8395.92
10235.44
12599.63
13867.96
11807.53
12497.5
12993.28
13111.31
13327.88
13353.37
10450.15
8420.81
8571.06
8731.76
8837.03
8895.7
8942.06
8825.42
8820.68
first quartile
3409.29
3840.41
5334.47
7799.26
10567.89
10526.67
10831.76
11049.85
11220.55
11806.06
12967.37
12510.92
10031.51
8148.83
8092.03
8296.08
8580.27
8632.76
8614.23
8503.04
8534.06
third quartile
3906.25
7812.5
13637.15
14884.91
15598.52
15508.87
13485.76
13613.92
13670.88
13688.85
14006.66
14017.2
10876.98
8521.87
8700.52
8894.36
8986.28
9173.17
9098.66
8999.23
9076.69
minimum
3409.29
3721.23
5117.72
6299.81
7754.43
5472.41
6103.27
7468.34
8131.56
9090.33
9280.43
9648.16
5519.36
5050.56
3742.68
3681.14
3623.2
3619.34
3613.8
3602.89
3597.33
maximum
3906.25
7812.5
15625.0
27274.3
20470.89
18200.84
14809.2
14788.91
14936.68
14593.81
14758.21
15295.08
11975.59
8849.44
8908.71
9236.52
9506.87
9531.8
9617.27
9412.8
9405.2
baseline set1 difference
14.58 %
-6.36 %
-38.43 %
-7.81 %
0.0 %
10.58 %
-5.63 %
2.61 %
5.27 %
2.35 %
0.95 %
1.15 %
-1.31 %
0.53 %
0.8 %
0.86 %
0.51 %
0.9 %
0.65 %
0.94 %
-0.21 %
ttest p-value
0.5796
0.0629
0.0235
0.8156
0.4135
0.9036
0.4058
0.523
0.4598
0.4144
0.236
0.5358
0.6918
0.9711
0.7234
0.9743
0.999
0.7667
0.8677
0.944
0.7885
ttest equality
SAME
DIFF
DIFF
SAME
SAME
SAME
SAME
SAME
SAME
SAME
SAME
SAME
SAME
SAME
SAME
SAME
SAME
SAME
SAME
SAME
SAME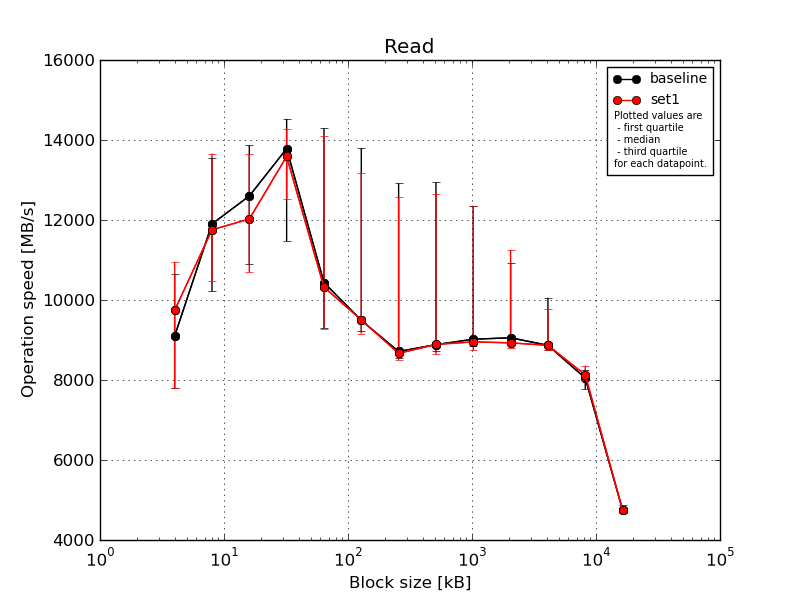 Read
Block size [kB]
4
8
16
32
64
128
256
512
1024
2048
4096
8192
16384
baseline
mean val.
8752.6
11257.56
12469.0
13407.64
11639.46
11084.84
10297.03
10333.75
10209.14
10121.87
9765.63
8426.88
4658.32
standard dev.
2301.87
2791.66
1907.14
2770.84
3003.31
2487.72
2272.07
2136.53
2028.98
1940.17
1780.66
1381.01
581.85
ci. min. 90%
8276.08
10655.29
12038.63
12750.67
11097.66
10621.92
9860.02
9908.0
9789.1
9703.31
9363.8
8099.45
4512.58
ci. max. 90%
9229.12
11859.82
12899.37
14064.6
12181.25
11547.76
10734.04
10759.5
10629.17
10540.44
10167.46
8754.32
4804.06
geom. mean
8366.37
10784.04
12322.18
13155.86
11270.94
10827.03
10057.78
10129.12
10022.28
9958.82
9629.43
8329.52
4620.32
median
9102.11
11901.67
12599.63
13782.91
10435.53
9490.67
8713.19
8884.13
9019.79
9055.5
8867.33
8047.88
4749.02
first quartile
7799.26
10216.18
10903.58
11472.67
9301.64
9233.72
8559.58
8730.21
8846.5
8890.1
8751.13
7772.88
4682.69
third quartile
10655.95
13542.37
13867.96
14527.58
14293.01
13799.26
12913.76
12941.73
12339.71
10922.73
10053.3
8252.17
4868.09
minimum
3409.29
3721.23
8395.92
6103.27
5472.41
6162.7
5737.79
7526.83
6093.27
8420.81
8602.15
5312.82
3597.33
maximum
11495.95
14884.91
16791.84
27274.3
20470.89
18200.84
14809.2
14079.44
14184.25
14174.6
14088.96
12423.86
5667.59
set1
mean val.
8752.6
11257.56
12469.0
13407.64
11639.46
11084.84
10297.03
10333.75
10209.14
10121.87
9765.63
8426.88
4658.32
standard dev.
2301.87
2791.66
1907.14
2770.84
3003.31
2487.72
2272.07
2136.53
2028.98
1940.17
1780.66
1381.01
581.85
ci. min. 90%
8276.08
10655.29
12038.63
12750.67
11097.66
10621.92
9860.02
9908.0
9789.1
9703.31
9363.8
8099.45
4512.58
ci. max. 90%
9229.12
11859.82
12899.37
14064.6
12181.25
11547.76
10734.04
10759.5
10629.17
10540.44
10167.46
8754.32
4804.06
geom. mean
8366.37
10784.04
12322.18
13155.86
11270.94
10827.03
10057.78
10129.12
10022.28
9958.82
9629.43
8329.52
4620.32
median
9102.11
11901.67
12599.63
13782.91
10435.53
9490.67
8713.19
8884.13
9019.79
9055.5
8867.33
8047.88
4749.02
first quartile
7799.26
10216.18
10903.58
11472.67
9301.64
9233.72
8559.58
8730.21
8846.5
8890.1
8751.13
7772.88
4682.69
third quartile
10655.95
13542.37
13867.96
14527.58
14293.01
13799.26
12913.76
12941.73
12339.71
10922.73
10053.3
8252.17
4868.09
minimum
3409.29
3721.23
8395.92
6103.27
5472.41
6162.7
5737.79
7526.83
6093.27
8420.81
8602.15
5312.82
3597.33
maximum
11495.95
14884.91
16791.84
27274.3
20470.89
18200.84
14809.2
14079.44
14184.25
14174.6
14088.96
12423.86
5667.59
baseline set1 difference
-6.58 %
1.25 %
4.78 %
1.43 %
1.1 %
-0.11 %
0.54 %
-0.06 %
0.74 %
1.42 %
0.01 %
-0.97 %
0.0 %
ttest p-value
0.2095
0.296
0.4397
0.7864
0.9894
0.7773
0.7663
0.7909
0.9634
0.8125
0.7962
0.761
0.3222
ttest equality
SAME
SAME
SAME
SAME
SAME
SAME
SAME
SAME
SAME
SAME
SAME
SAME
SAME
Back on top
---
Re-read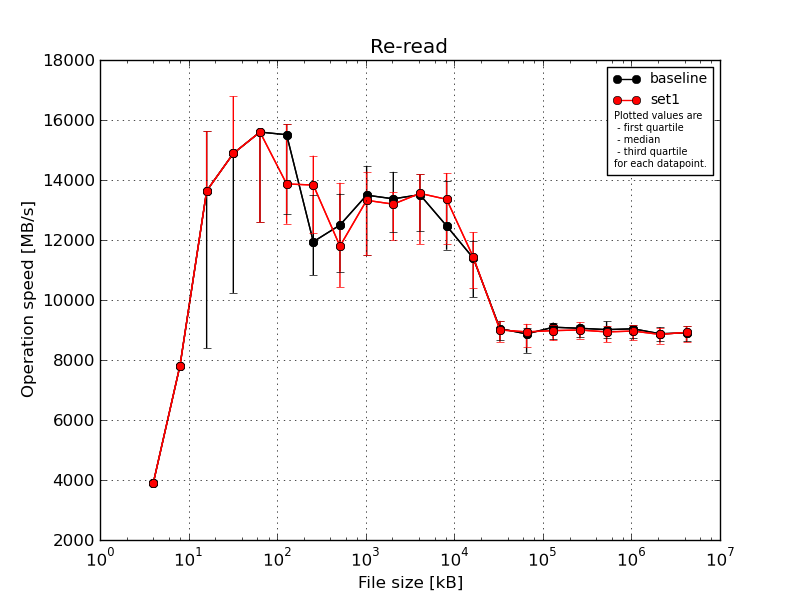 Re-read
File size [kB]
4
8
16
32
64
128
256
512
1024
2048
4096
8192
16384
32768
65536
131072
262144
524288
1048576
2097152
4194304
baseline
mean val.
3806.86
7613.72
12558.08
14652.06
14170.73
14315.3
12043.91
12230.27
12853.28
13122.68
13148.71
12779.96
10861.28
8611.11
8284.02
8520.85
8522.53
8529.19
8454.86
8313.0
8347.73
standard dev.
222.25
419.08
3437.23
6343.78
2031.32
2275.58
2051.04
2123.94
1772.24
1414.33
1397.71
1463.35
1823.46
1281.04
1483.69
1476.44
1500.75
1503.49
1533.87
1585.66
1573.64
ci. min. 90%
3594.97
7370.78
10994.94
12199.26
13475.66
13609.38
11457.69
11664.45
12409.38
12787.34
12833.3
12464.26
10483.79
8290.24
7912.39
8151.04
8146.63
8152.61
8070.66
7915.83
7953.58
ci. max. 90%
4018.75
7856.65
14121.23
17104.85
14865.8
15021.22
12630.14
12796.09
13297.18
13458.01
13464.12
13095.66
11238.76
8931.97
8655.64
8890.66
8898.43
8905.78
8839.05
8710.17
8741.89
geom. mean
3801.38
7602.75
12054.9
13648.86
14017.4
14120.8
11868.5
12038.9
12727.99
13041.24
13071.05
12697.69
10665.27
8489.58
8110.47
8346.83
8342.28
8347.43
8267.5
8103.23
8142.13
median
3906.25
7812.5
13637.15
14884.91
15598.52
15508.87
11942.0
12497.5
13494.94
13372.52
13510.34
12470.04
11396.0
9046.88
8868.97
9092.76
9057.46
9012.82
9039.47
8875.25
8902.76
first quartile
3906.25
7812.5
8395.92
10235.44
12599.63
12872.79
10831.76
10941.52
11497.36
12250.33
12292.78
11675.96
10094.89
8660.43
8239.07
8715.89
8769.83
8733.77
8716.82
8627.33
8632.5
third quartile
3906.25
7812.5
15625.0
14884.91
15598.52
15863.43
13485.76
13546.99
14472.81
14271.18
14184.25
13953.14
11958.51
9304.65
9078.03
9247.18
9178.94
9283.61
9156.76
9087.97
9132.05
minimum
3409.29
6818.58
7442.46
7799.26
10567.89
8915.6
8334.88
7687.35
8759.93
9129.9
9501.17
9673.19
5563.29
5105.31
3807.5
3687.18
3635.07
3635.67
3631.37
3619.17
3624.86
maximum
3906.25
7812.5
15625.0
31250.0
15598.52
18200.84
16695.56
15556.85
15603.48
15257.4
15338.39
15873.94
13536.0
9489.51
9441.05
9643.67
9654.14
9656.74
9680.37
9465.62
9442.77
set1
mean val.
3806.86
7613.72
12558.08
14652.06
14170.73
14315.3
12043.91
12230.27
12853.28
13122.68
13148.71
12779.96
10861.28
8611.11
8284.02
8520.85
8522.53
8529.19
8454.86
8313.0
8347.73
standard dev.
222.25
419.08
3437.23
6343.78
2031.32
2275.58
2051.04
2123.94
1772.24
1414.33
1397.71
1463.35
1823.46
1281.04
1483.69
1476.44
1500.75
1503.49
1533.87
1585.66
1573.64
ci. min. 90%
3594.97
7370.78
10994.94
12199.26
13475.66
13609.38
11457.69
11664.45
12409.38
12787.34
12833.3
12464.26
10483.79
8290.24
7912.39
8151.04
8146.63
8152.61
8070.66
7915.83
7953.58
ci. max. 90%
4018.75
7856.65
14121.23
17104.85
14865.8
15021.22
12630.14
12796.09
13297.18
13458.01
13464.12
13095.66
11238.76
8931.97
8655.64
8890.66
8898.43
8905.78
8839.05
8710.17
8741.89
geom. mean
3801.38
7602.75
12054.9
13648.86
14017.4
14120.8
11868.5
12038.9
12727.99
13041.24
13071.05
12697.69
10665.27
8489.58
8110.47
8346.83
8342.28
8347.43
8267.5
8103.23
8142.13
median
3906.25
7812.5
13637.15
14884.91
15598.52
15508.87
11942.0
12497.5
13494.94
13372.52
13510.34
12470.04
11396.0
9046.88
8868.97
9092.76
9057.46
9012.82
9039.47
8875.25
8902.76
first quartile
3906.25
7812.5
8395.92
10235.44
12599.63
12872.79
10831.76
10941.52
11497.36
12250.33
12292.78
11675.96
10094.89
8660.43
8239.07
8715.89
8769.83
8733.77
8716.82
8627.33
8632.5
third quartile
3906.25
7812.5
15625.0
14884.91
15598.52
15863.43
13485.76
13546.99
14472.81
14271.18
14184.25
13953.14
11958.51
9304.65
9078.03
9247.18
9178.94
9283.61
9156.76
9087.97
9132.05
minimum
3409.29
6818.58
7442.46
7799.26
10567.89
8915.6
8334.88
7687.35
8759.93
9129.9
9501.17
9673.19
5563.29
5105.31
3807.5
3687.18
3635.07
3635.67
3631.37
3619.17
3624.86
maximum
3906.25
7812.5
15625.0
31250.0
15598.52
18200.84
16695.56
15556.85
15603.48
15257.4
15338.39
15873.94
13536.0
9489.51
9441.05
9643.67
9654.14
9656.74
9680.37
9465.62
9442.77
baseline set1 difference
0.0 %
0.0 %
0.0 %
0.0 %
0.0 %
11.83 %
-13.67 %
5.95 %
1.29 %
1.35 %
-0.32 %
-6.63 %
-0.29 %
0.51 %
-0.77 %
1.26 %
0.64 %
0.85 %
0.84 %
0.25 %
-0.22 %
ttest p-value
1.0
0.556
0.113
0.2385
0.1273
0.9483
0.0163
0.9168
0.7713
0.3376
0.7235
0.0903
0.6272
0.9919
0.5661
0.9632
0.9568
0.7702
0.871
0.9081
0.8079
ttest equality
SAME
SAME
SAME
SAME
SAME
SAME
DIFF
SAME
SAME
SAME
SAME
DIFF
SAME
SAME
SAME
SAME
SAME
SAME
SAME
SAME
SAME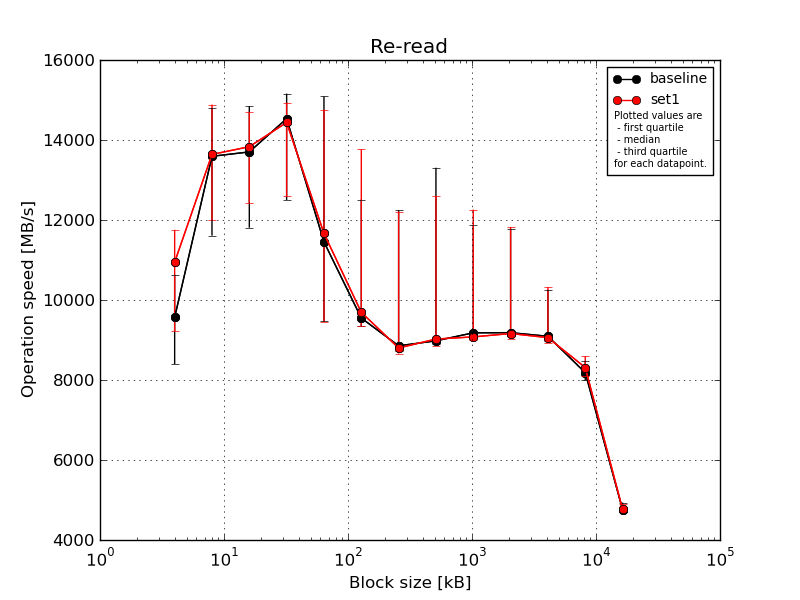 Re-read
Block size [kB]
4
8
16
32
64
128
256
512
1024
2048
4096
8192
16384
baseline
mean val.
9273.02
12972.78
13439.63
14381.75
11990.01
11067.61
10440.34
10563.06
10389.84
10277.54
9900.41
8576.9
4690.19
standard dev.
2109.44
2341.75
1743.14
3901.22
2699.38
2294.85
2130.7
2107.95
1940.79
1753.37
1584.22
1289.18
595.1
ci. min. 90%
8836.33
12467.58
13046.27
13456.77
11503.04
10640.58
10030.52
10143.0
9988.07
9899.27
9542.9
8271.24
4541.14
ci. max. 90%
9709.7
13477.99
13833.0
15306.73
12476.97
11494.64
10850.16
10983.12
10791.62
10655.8
10257.91
8882.57
4839.25
geom. mean
8957.26
12735.85
13325.97
14011.02
11700.13
10849.01
10224.53
10367.24
10220.72
10144.57
9791.73
8490.5
4650.83
median
9566.3
13592.07
13702.37
14532.63
11452.4
9548.54
8854.69
8979.45
9180.03
9183.68
9092.76
8182.88
4756.15
first quartile
8395.92
11608.85
11807.53
12501.12
9465.62
9342.51
8719.51
8888.6
9078.51
9087.79
8981.77
7998.33
4696.83
third quartile
10633.26
14802.15
14847.06
15160.24
15090.06
12510.61
12240.65
13306.66
11875.1
11776.14
10256.68
8470.99
4935.22
minimum
3409.29
7812.5
9628.54
8334.88
9248.8
6237.47
4827.99
7615.45
6031.34
8943.43
8768.55
5347.26
3619.17
maximum
12599.63
16791.84
16791.84
31250.0
17590.19
18200.84
14329.63
14295.38
14324.53
14393.49
14077.14
12577.54
5711.97
set1
mean val.
9273.02
12972.78
13439.63
14381.75
11990.01
11067.61
10440.34
10563.06
10389.84
10277.54
9900.41
8576.9
4690.19
standard dev.
2109.44
2341.75
1743.14
3901.22
2699.38
2294.85
2130.7
2107.95
1940.79
1753.37
1584.22
1289.18
595.1
ci. min. 90%
8836.33
12467.58
13046.27
13456.77
11503.04
10640.58
10030.52
10143.0
9988.07
9899.27
9542.9
8271.24
4541.14
ci. max. 90%
9709.7
13477.99
13833.0
15306.73
12476.97
11494.64
10850.16
10983.12
10791.62
10655.8
10257.91
8882.57
4839.25
geom. mean
8957.26
12735.85
13325.97
14011.02
11700.13
10849.01
10224.53
10367.24
10220.72
10144.57
9791.73
8490.5
4650.83
median
9566.3
13592.07
13702.37
14532.63
11452.4
9548.54
8854.69
8979.45
9180.03
9183.68
9092.76
8182.88
4756.15
first quartile
8395.92
11608.85
11807.53
12501.12
9465.62
9342.51
8719.51
8888.6
9078.51
9087.79
8981.77
7998.33
4696.83
third quartile
10633.26
14802.15
14847.06
15160.24
15090.06
12510.61
12240.65
13306.66
11875.1
11776.14
10256.68
8470.99
4935.22
minimum
3409.29
7812.5
9628.54
8334.88
9248.8
6237.47
4827.99
7615.45
6031.34
8943.43
8768.55
5347.26
3619.17
maximum
12599.63
16791.84
16791.84
31250.0
17590.19
18200.84
14329.63
14295.38
14324.53
14393.49
14077.14
12577.54
5711.97
baseline set1 difference
-12.6 %
-0.35 %
-0.94 %
0.66 %
-1.81 %
-1.48 %
0.62 %
-0.49 %
1.13 %
0.24 %
0.37 %
-1.54 %
-0.32 %
ttest p-value
0.0059
0.9773
0.3255
0.8483
0.5461
0.3052
0.8823
0.9129
0.9791
0.9535
0.8504
0.5982
0.3084
ttest equality
DIFF
SAME
SAME
SAME
SAME
SAME
SAME
SAME
SAME
SAME
SAME
SAME
SAME
Back on top
---
Random read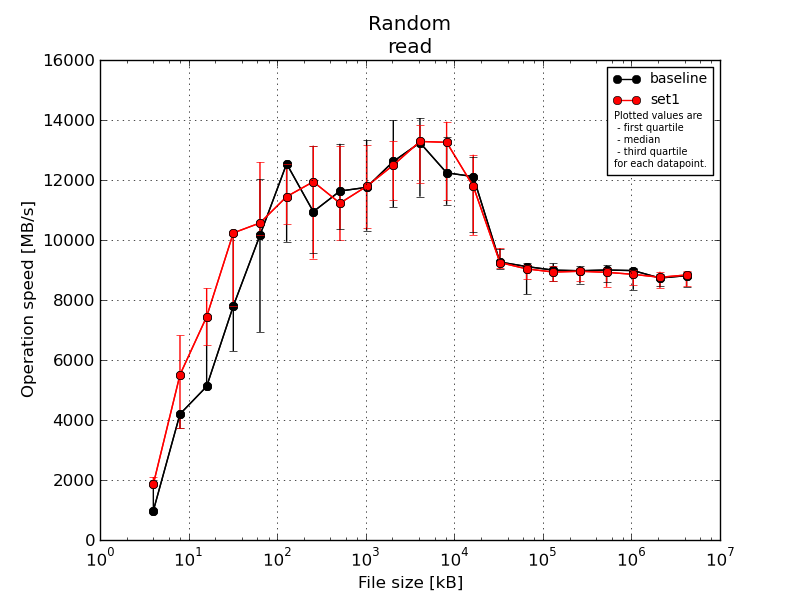 Random read
File size [kB]
4
8
16
32
64
128
256
512
1024
2048
4096
8192
16384
32768
65536
131072
262144
524288
1048576
2097152
4194304
baseline
mean val.
1291.7
4191.58
5915.15
8048.66
8907.81
11281.81
11158.48
11504.12
11712.04
12324.26
12700.15
12237.88
11294.92
8821.75
8378.63
8446.09
8410.67
8431.5
8329.98
8139.8
8188.8
standard dev.
524.95
1445.32
1500.27
1702.64
3307.66
2624.85
2079.54
2003.96
1980.37
1863.45
1722.61
1689.03
2311.66
1464.02
1529.18
1460.49
1461.87
1459.68
1485.68
1508.28
1490.98
ci. min. 90%
791.22
3353.76
5232.87
7390.34
7776.01
10467.54
10564.1
10970.26
11216.01
11882.44
12311.42
11873.49
10816.37
8455.05
7995.61
8080.28
8044.51
8065.89
7957.86
7762.01
7815.35
ci. max. 90%
1792.18
5029.4
6597.42
8706.97
10039.62
12096.08
11752.85
12037.98
12208.07
12766.09
13088.88
12602.26
11773.47
9188.45
8761.65
8811.91
8776.83
8797.11
8702.11
8517.58
8562.26
geom. mean
1209.75
3990.28
5744.31
7884.62
8153.97
10912.65
10959.91
11321.4
11537.85
12171.35
12573.13
12117.14
11003.71
8668.44
8196.77
8274.86
8238.23
8258.04
8151.57
7946.39
8000.5
median
974.91
4197.96
5117.72
7799.26
10158.38
12541.07
10944.82
11631.18
11755.15
12618.25
13243.72
12240.38
12113.94
9264.83
9115.63
8995.1
8975.84
8999.19
8980.72
8732.99
8811.12
first quartile
974.91
3721.23
5117.72
6299.81
6933.98
9939.74
9562.07
10353.88
10310.34
11099.42
11446.26
11173.5
10269.45
9037.13
8195.8
8619.47
8549.05
8597.68
8340.73
8456.73
8446.14
third quartile
1860.61
4197.96
7442.46
10235.44
12021.81
12541.07
13139.11
13205.77
13323.47
13985.54
14065.38
13445.79
12758.81
9711.28
9220.53
9217.17
9132.1
9156.59
9079.37
8880.38
8948.31
minimum
787.48
1949.81
3899.63
6299.81
3284.78
5002.48
7142.61
6948.68
7296.91
7545.03
7997.51
7767.58
5633.81
5036.92
3756.98
3675.42
3640.08
3627.21
3613.97
3609.93
3620.05
maximum
1860.61
7812.5
8395.92
11102.44
12599.63
15508.87
14809.2
15108.54
14472.81
15369.22
15158.23
15564.68
14583.16
10056.92
9672.02
9508.9
9407.91
9411.28
9361.6
9020.67
9171.97
set1
mean val.
1291.7
4191.58
5915.15
8048.66
8907.81
11281.81
11158.48
11504.12
11712.04
12324.26
12700.15
12237.88
11294.92
8821.75
8378.63
8446.09
8410.67
8431.5
8329.98
8139.8
8188.8
standard dev.
524.95
1445.32
1500.27
1702.64
3307.66
2624.85
2079.54
2003.96
1980.37
1863.45
1722.61
1689.03
2311.66
1464.02
1529.18
1460.49
1461.87
1459.68
1485.68
1508.28
1490.98
ci. min. 90%
791.22
3353.76
5232.87
7390.34
7776.01
10467.54
10564.1
10970.26
11216.01
11882.44
12311.42
11873.49
10816.37
8455.05
7995.61
8080.28
8044.51
8065.89
7957.86
7762.01
7815.35
ci. max. 90%
1792.18
5029.4
6597.42
8706.97
10039.62
12096.08
11752.85
12037.98
12208.07
12766.09
13088.88
12602.26
11773.47
9188.45
8761.65
8811.91
8776.83
8797.11
8702.11
8517.58
8562.26
geom. mean
1209.75
3990.28
5744.31
7884.62
8153.97
10912.65
10959.91
11321.4
11537.85
12171.35
12573.13
12117.14
11003.71
8668.44
8196.77
8274.86
8238.23
8258.04
8151.57
7946.39
8000.5
median
974.91
4197.96
5117.72
7799.26
10158.38
12541.07
10944.82
11631.18
11755.15
12618.25
13243.72
12240.38
12113.94
9264.83
9115.63
8995.1
8975.84
8999.19
8980.72
8732.99
8811.12
first quartile
974.91
3721.23
5117.72
6299.81
6933.98
9939.74
9562.07
10353.88
10310.34
11099.42
11446.26
11173.5
10269.45
9037.13
8195.8
8619.47
8549.05
8597.68
8340.73
8456.73
8446.14
third quartile
1860.61
4197.96
7442.46
10235.44
12021.81
12541.07
13139.11
13205.77
13323.47
13985.54
14065.38
13445.79
12758.81
9711.28
9220.53
9217.17
9132.1
9156.59
9079.37
8880.38
8948.31
minimum
787.48
1949.81
3899.63
6299.81
3284.78
5002.48
7142.61
6948.68
7296.91
7545.03
7997.51
7767.58
5633.81
5036.92
3756.98
3675.42
3640.08
3627.21
3613.97
3609.93
3620.05
maximum
1860.61
7812.5
8395.92
11102.44
12599.63
15508.87
14809.2
15108.54
14472.81
15369.22
15158.23
15564.68
14583.16
10056.92
9672.02
9508.9
9407.91
9411.28
9361.6
9020.67
9171.97
baseline set1 difference
-47.6 %
-23.79 %
-31.24 %
-23.8 %
-3.88 %
9.57 %
-8.35 %
3.59 %
-0.28 %
0.98 %
-0.32 %
-7.66 %
2.74 %
0.18 %
0.86 %
0.71 %
0.21 %
0.86 %
1.41 %
-0.27 %
-0.27 %
ttest p-value
0.0579
0.0896
0.0162
0.0587
0.0486
0.7705
0.7254
0.8446
0.833
0.6188
0.6353
0.1833
0.9798
0.9883
0.682
0.9891
0.9091
0.7584
0.8893
0.7756
0.9153
ttest equality
DIFF
DIFF
DIFF
DIFF
DIFF
SAME
SAME
SAME
SAME
SAME
SAME
SAME
SAME
SAME
SAME
SAME
SAME
SAME
SAME
SAME
SAME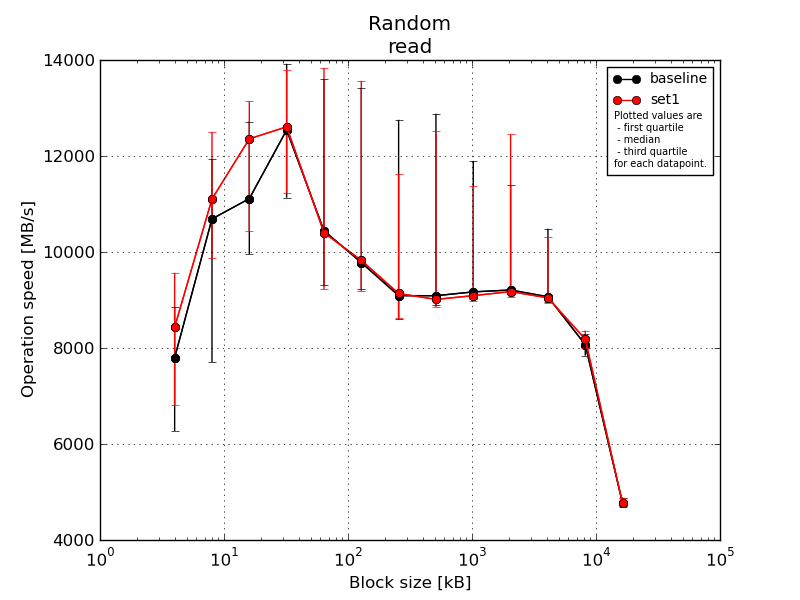 Random read
Block size [kB]
4
8
16
32
64
128
256
512
1024
2048
4096
8192
16384
baseline
mean val.
7029.37
9760.42
10876.81
12181.59
11246.91
10982.52
10292.26
10461.32
10394.5
10252.18
9783.69
8279.0
4673.36
standard dev.
2472.16
2871.73
2441.24
2218.46
2416.45
2221.87
2129.12
2031.51
1988.81
1689.87
1438.33
1056.33
594.88
ci. min. 90%
6517.59
9140.88
10325.91
11655.6
10810.98
10569.07
9882.75
10056.5
9982.79
9887.61
9459.11
8028.55
4524.36
ci. max. 90%
7541.14
10379.95
11427.71
12707.59
11682.83
11395.97
10701.77
10866.15
10806.22
10616.74
10108.26
8529.46
4822.37
geom. mean
6272.33
9222.53
10518.3
11894.51
10972.09
10768.78
10080.18
10278.96
10219.08
10128.13
9694.02
8218.33
4634.04
median
7799.26
10689.32
11111.45
12541.07
10443.69
9779.94
9091.0
9089.46
9169.07
9208.34
9067.72
8068.8
4761.19
first quartile
6270.53
7710.06
9957.67
11130.94
9302.47
9233.92
8594.99
8889.03
9014.87
9114.85
8959.68
7841.11
4689.63
third quartile
8852.37
11932.11
12718.44
13920.51
13600.08
13417.41
12755.07
12881.28
11897.04
11385.75
10484.54
8283.14
4883.33
minimum
787.48
3458.1
3702.3
3284.78
3650.74
6041.76
5334.69
7613.5
6231.82
8914.07
8726.7
5319.17
3609.93
maximum
10243.11
13422.82
14030.05
15158.23
15564.68
15508.87
14041.79
14198.59
14207.11
14198.59
14136.45
12387.17
5695.97
set1
mean val.
7029.37
9760.42
10876.81
12181.59
11246.91
10982.52
10292.26
10461.32
10394.5
10252.18
9783.69
8279.0
4673.36
standard dev.
2472.16
2871.73
2441.24
2218.46
2416.45
2221.87
2129.12
2031.51
1988.81
1689.87
1438.33
1056.33
594.88
ci. min. 90%
6517.59
9140.88
10325.91
11655.6
10810.98
10569.07
9882.75
10056.5
9982.79
9887.61
9459.11
8028.55
4524.36
ci. max. 90%
7541.14
10379.95
11427.71
12707.59
11682.83
11395.97
10701.77
10866.15
10806.22
10616.74
10108.26
8529.46
4822.37
geom. mean
6272.33
9222.53
10518.3
11894.51
10972.09
10768.78
10080.18
10278.96
10219.08
10128.13
9694.02
8218.33
4634.04
median
7799.26
10689.32
11111.45
12541.07
10443.69
9779.94
9091.0
9089.46
9169.07
9208.34
9067.72
8068.8
4761.19
first quartile
6270.53
7710.06
9957.67
11130.94
9302.47
9233.92
8594.99
8889.03
9014.87
9114.85
8959.68
7841.11
4689.63
third quartile
8852.37
11932.11
12718.44
13920.51
13600.08
13417.41
12755.07
12881.28
11897.04
11385.75
10484.54
8283.14
4883.33
minimum
787.48
3458.1
3702.3
3284.78
3650.74
6041.76
5334.69
7613.5
6231.82
8914.07
8726.7
5319.17
3609.93
maximum
10243.11
13422.82
14030.05
15158.23
15564.68
15508.87
14041.79
14198.59
14207.11
14198.59
14136.45
12387.17
5695.97
baseline set1 difference
-7.53 %
-3.74 %
-10.09 %
-0.53 %
0.4 %
-0.47 %
-0.49 %
0.86 %
0.86 %
0.36 %
0.25 %
-1.41 %
-0.02 %
ttest p-value
0.0659
0.0988
0.0889
0.5976
0.6768
0.797
0.622
0.8962
0.741
0.9239
0.9297
0.5385
0.3103
ttest equality
DIFF
DIFF
DIFF
SAME
SAME
SAME
SAME
SAME
SAME
SAME
SAME
SAME
SAME
Back on top
---
Random write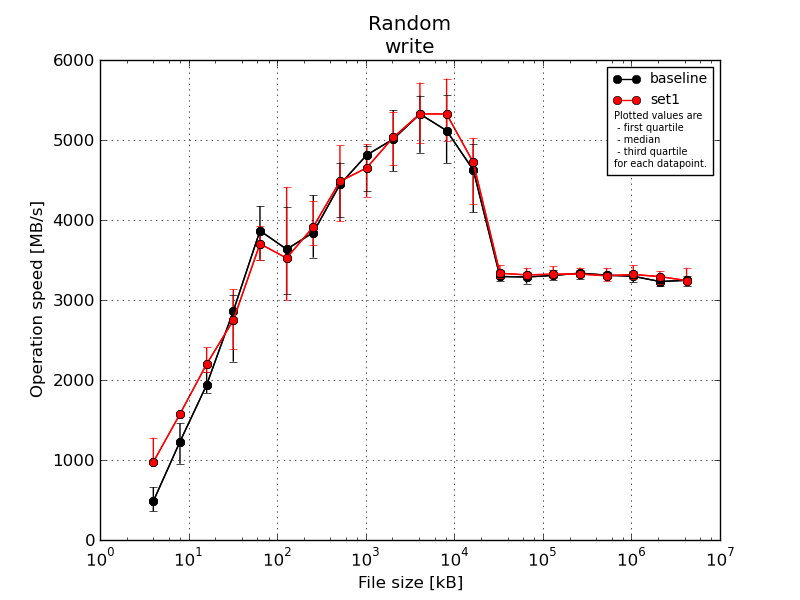 Random write
File size [kB]
4
8
16
32
64
128
256
512
1024
2048
4096
8192
16384
32768
65536
131072
262144
524288
1048576
2097152
4194304
baseline
mean val.
531.24
1127.87
1940.59
2718.34
3762.86
3622.94
3917.95
4387.54
4600.34
4908.14
5200.25
5108.2
4455.5
3293.18
3238.34
3285.28
3295.23
3286.11
3267.4
3186.05
3207.56
standard dev.
304.26
435.27
333.65
467.5
581.46
718.83
672.97
561.68
652.25
628.31
606.12
645.96
673.86
125.51
190.62
144.97
143.7
137.18
173.83
187.78
175.08
ci. min. 90%
241.16
875.55
1788.86
2537.58
3563.9
3399.95
3725.6
4237.91
4436.97
4759.16
5063.47
4968.84
4316.0
3261.74
3190.59
3248.97
3259.23
3251.75
3223.86
3139.01
3163.7
ci. max. 90%
821.32
1380.19
2092.32
2899.09
3961.82
3845.94
4110.29
4537.17
4763.71
5057.11
5337.03
5247.56
4595.0
3324.62
3286.09
3321.59
3331.22
3320.47
3310.93
3233.08
3251.41
geom. mean
456.94
1022.7
1911.35
2681.1
3714.58
3549.61
3862.88
4350.65
4551.38
4864.16
5162.92
5066.43
4400.81
3290.82
3232.31
3281.97
3291.98
3283.16
3262.49
3180.1
3202.54
median
484.65
1229.27
1938.61
2861.48
3866.11
3634.27
3843.67
4445.03
4811.05
5011.73
5324.74
5116.91
4625.71
3293.86
3287.6
3307.0
3335.63
3310.79
3296.5
3231.06
3246.11
first quartile
357.68
952.11
1836.05
2228.9
3504.33
3069.82
3529.81
4034.49
4365.4
4609.62
4839.44
4713.49
4095.3
3234.96
3204.67
3248.9
3256.79
3278.67
3219.24
3173.78
3173.54
third quartile
660.49
1457.29
2098.24
3062.02
4173.89
4167.44
4310.6
4717.42
4924.01
5373.69
5554.82
5559.43
4947.64
3370.54
3347.25
3371.69
3372.46
3344.33
3363.28
3273.4
3294.48
minimum
178.46
386.39
1289.93
2086.94
2083.72
2232.86
2805.14
3164.05
2968.78
3072.97
3438.79
3396.95
3036.63
2981.17
2462.2
2713.06
2720.37
2759.16
2549.39
2456.73
2633.23
maximum
974.91
1574.95
2539.59
3877.22
4872.05
5002.48
5553.73
5435.77
6098.09
5866.96
6279.35
6595.07
5485.08
3567.46
3448.65
3475.35
3450.97
3483.63
3495.93
3425.16
3470.11
set1
mean val.
531.24
1127.87
1940.59
2718.34
3762.86
3622.94
3917.95
4387.54
4600.34
4908.14
5200.25
5108.2
4455.5
3293.18
3238.34
3285.28
3295.23
3286.11
3267.4
3186.05
3207.56
standard dev.
304.26
435.27
333.65
467.5
581.46
718.83
672.97
561.68
652.25
628.31
606.12
645.96
673.86
125.51
190.62
144.97
143.7
137.18
173.83
187.78
175.08
ci. min. 90%
241.16
875.55
1788.86
2537.58
3563.9
3399.95
3725.6
4237.91
4436.97
4759.16
5063.47
4968.84
4316.0
3261.74
3190.59
3248.97
3259.23
3251.75
3223.86
3139.01
3163.7
ci. max. 90%
821.32
1380.19
2092.32
2899.09
3961.82
3845.94
4110.29
4537.17
4763.71
5057.11
5337.03
5247.56
4595.0
3324.62
3286.09
3321.59
3331.22
3320.47
3310.93
3233.08
3251.41
geom. mean
456.94
1022.7
1911.35
2681.1
3714.58
3549.61
3862.88
4350.65
4551.38
4864.16
5162.92
5066.43
4400.81
3290.82
3232.31
3281.97
3291.98
3283.16
3262.49
3180.1
3202.54
median
484.65
1229.27
1938.61
2861.48
3866.11
3634.27
3843.67
4445.03
4811.05
5011.73
5324.74
5116.91
4625.71
3293.86
3287.6
3307.0
3335.63
3310.79
3296.5
3231.06
3246.11
first quartile
357.68
952.11
1836.05
2228.9
3504.33
3069.82
3529.81
4034.49
4365.4
4609.62
4839.44
4713.49
4095.3
3234.96
3204.67
3248.9
3256.79
3278.67
3219.24
3173.78
3173.54
third quartile
660.49
1457.29
2098.24
3062.02
4173.89
4167.44
4310.6
4717.42
4924.01
5373.69
5554.82
5559.43
4947.64
3370.54
3347.25
3371.69
3372.46
3344.33
3363.28
3273.4
3294.48
minimum
178.46
386.39
1289.93
2086.94
2083.72
2232.86
2805.14
3164.05
2968.78
3072.97
3438.79
3396.95
3036.63
2981.17
2462.2
2713.06
2720.37
2759.16
2549.39
2456.73
2633.23
maximum
974.91
1574.95
2539.59
3877.22
4872.05
5002.48
5553.73
5435.77
6098.09
5866.96
6279.35
6595.07
5485.08
3567.46
3448.65
3475.35
3450.97
3483.63
3495.93
3425.16
3470.11
baseline set1 difference
-50.29 %
-21.95 %
-11.83 %
4.18 %
4.42 %
3.13 %
-1.83 %
-0.85 %
3.44 %
-0.42 %
-0.03 %
-3.9 %
-1.99 %
-1.21 %
-0.8 %
-0.48 %
0.33 %
0.27 %
-0.7 %
-1.86 %
0.08 %
ttest p-value
0.0361
0.0062
0.0324
0.5524
0.5688
0.7347
0.4756
0.7564
0.7313
0.581
0.3056
0.0233
0.3391
0.096
0.0172
0.1487
0.2187
0.6988
0.0813
0.0838
0.5827
ttest equality
DIFF
DIFF
DIFF
SAME
SAME
SAME
SAME
SAME
SAME
SAME
SAME
DIFF
SAME
DIFF
DIFF
SAME
SAME
SAME
DIFF
DIFF
SAME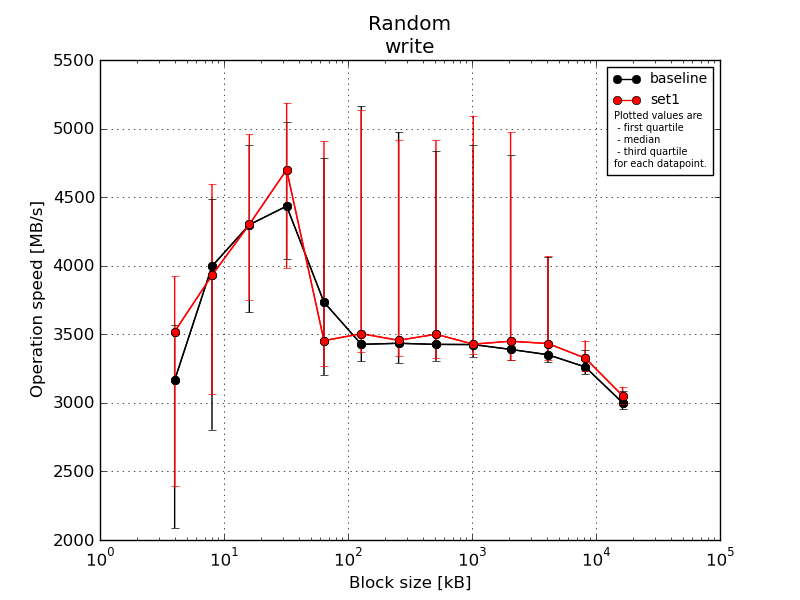 Random write
Block size [kB]
4
8
16
32
64
128
256
512
1024
2048
4096
8192
16384
baseline
mean val.
2827.8
3567.36
4160.62
4508.04
4057.1
4093.31
4064.35
4034.94
4013.77
3939.27
3748.49
3417.11
2978.83
standard dev.
1157.24
1165.22
957.98
797.33
967.48
1004.38
916.1
918.66
914.82
880.9
770.63
493.95
144.89
ci. min. 90%
2588.24
3315.98
3944.44
4318.99
3882.57
3906.41
3888.15
3851.87
3824.39
3749.22
3574.58
3300.0
2942.54
ci. max. 90%
3067.37
3818.74
4376.8
4697.09
4231.63
4280.21
4240.56
4218.0
4203.16
4129.31
3922.39
3534.23
3015.12
geom. mean
2412.26
3324.06
4036.0
4431.39
3950.4
3979.34
3967.11
3939.73
3918.33
3852.51
3683.8
3387.77
2975.29
median
3165.98
3995.82
4298.65
4434.59
3734.17
3426.72
3434.44
3426.33
3425.16
3389.75
3351.18
3261.64
3001.09
first quartile
2086.94
2803.71
3659.79
4046.66
3202.84
3303.48
3290.85
3306.53
3335.77
3310.37
3294.51
3209.2
2952.73
third quartile
3571.3
4483.19
4880.76
5050.08
4783.15
5162.83
4974.87
4834.8
4881.07
4806.23
4064.42
3384.15
3088.78
minimum
178.46
890.3
1938.61
2228.9
2610.92
2549.39
2462.2
2829.1
2633.23
3234.96
3231.37
2456.73
2653.94
maximum
4444.03
5419.34
5678.72
5929.6
6595.07
6324.1
5965.44
6211.93
5805.46
5921.22
6279.35
5380.07
3240.91
set1
mean val.
2827.8
3567.36
4160.62
4508.04
4057.1
4093.31
4064.35
4034.94
4013.77
3939.27
3748.49
3417.11
2978.83
standard dev.
1157.24
1165.22
957.98
797.33
967.48
1004.38
916.1
918.66
914.82
880.9
770.63
493.95
144.89
ci. min. 90%
2588.24
3315.98
3944.44
4318.99
3882.57
3906.41
3888.15
3851.87
3824.39
3749.22
3574.58
3300.0
2942.54
ci. max. 90%
3067.37
3818.74
4376.8
4697.09
4231.63
4280.21
4240.56
4218.0
4203.16
4129.31
3922.39
3534.23
3015.12
geom. mean
2412.26
3324.06
4036.0
4431.39
3950.4
3979.34
3967.11
3939.73
3918.33
3852.51
3683.8
3387.77
2975.29
median
3165.98
3995.82
4298.65
4434.59
3734.17
3426.72
3434.44
3426.33
3425.16
3389.75
3351.18
3261.64
3001.09
first quartile
2086.94
2803.71
3659.79
4046.66
3202.84
3303.48
3290.85
3306.53
3335.77
3310.37
3294.51
3209.2
2952.73
third quartile
3571.3
4483.19
4880.76
5050.08
4783.15
5162.83
4974.87
4834.8
4881.07
4806.23
4064.42
3384.15
3088.78
minimum
178.46
890.3
1938.61
2228.9
2610.92
2549.39
2462.2
2829.1
2633.23
3234.96
3231.37
2456.73
2653.94
maximum
4444.03
5419.34
5678.72
5929.6
6595.07
6324.1
5965.44
6211.93
5805.46
5921.22
6279.35
5380.07
3240.91
baseline set1 difference
-10.05 %
1.67 %
-0.05 %
-5.65 %
8.13 %
-2.22 %
-0.62 %
-2.12 %
-0.08 %
-1.74 %
-2.37 %
-1.95 %
-1.66 %
ttest p-value
0.1444
0.4045
0.7075
0.7991
0.8897
0.5825
0.8558
0.7374
0.6509
0.6241
0.51
0.6873
0.0183
ttest equality
SAME
SAME
SAME
SAME
SAME
SAME
SAME
SAME
SAME
SAME
SAME
SAME
DIFF
Back on top
---
Backwards read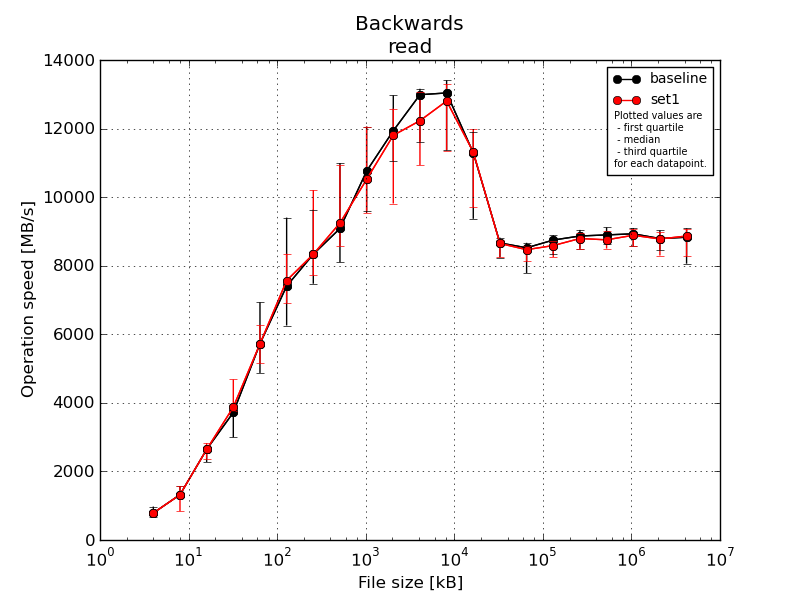 Backwards read
File size [kB]
4
8
16
32
64
128
256
512
1024
2048
4096
8192
16384
32768
65536
131072
262144
524288
1048576
2097152
4194304
baseline
mean val.
739.35
1449.82
2548.61
3562.02
5872.61
7580.89
8392.85
9358.41
10758.39
11611.95
12354.26
12414.22
10518.26
8156.03
7950.84
8166.23
8293.4
8386.88
8350.79
8166.38
8042.96
standard dev.
279.94
218.12
625.13
1300.81
1338.25
1916.72
2040.97
2076.38
1706.52
1647.6
1441.39
1599.69
2006.24
1213.95
1328.58
1376.44
1433.31
1456.47
1492.19
1577.74
1668.82
ci. min. 90%
472.45
1323.38
2264.32
3059.07
5414.7
6986.29
7809.51
8805.26
10330.96
11221.3
12028.99
12069.1
10102.94
7851.96
7618.06
7821.47
7934.39
8022.07
7977.04
7771.19
7624.96
ci. max. 90%
1006.24
1576.26
2832.9
4064.97
6330.53
8175.49
8976.2
9911.56
11185.83
12002.59
12679.53
12759.33
10933.58
8460.09
8283.61
8511.0
8652.41
8751.68
8724.54
8561.56
8460.95
geom. mean
682.22
1436.43
2459.94
3306.14
5723.73
7316.43
8094.8
9124.37
10619.56
11483.05
12262.17
12302.65
10286.99
8043.52
7807.63
8010.92
8126.4
8214.82
8171.66
7959.48
7819.8
median
787.48
1320.99
2641.97
3719.2
5722.96
7404.6
8334.88
9086.22
10759.99
11936.75
12987.41
13039.43
11292.45
8664.91
8522.08
8748.55
8866.73
8898.47
8930.59
8792.76
8830.55
first quartile
660.49
1320.99
2275.11
2996.6
4872.05
6255.99
7474.36
8099.1
9602.22
11044.1
11614.1
11377.41
9367.77
8238.86
7785.97
8330.71
8497.36
8621.84
8564.45
8461.73
8058.85
third quartile
974.91
1574.95
2641.97
3906.76
6933.98
9403.63
9637.14
10994.74
12059.33
12969.38
13160.61
13406.73
11905.48
8818.04
8668.49
8889.5
9043.73
9118.76
9100.53
9029.86
9088.1
minimum
298.95
1269.8
980.99
1300.24
3458.1
2915.86
3014.83
5812.41
6900.73
7146.5
8097.87
8839.87
5490.91
4950.53
3727.45
3640.82
3616.33
3621.08
3613.99
3597.58
3609.36
maximum
974.91
1949.81
3899.63
6299.81
8795.1
11445.91
12364.45
12802.68
14275.77
13892.89
14232.38
14679.48
13321.05
9052.37
8947.31
9214.01
9349.58
9386.93
9492.46
9258.33
9367.32
set1
mean val.
739.35
1449.82
2548.61
3562.02
5872.61
7580.89
8392.85
9358.41
10758.39
11611.95
12354.26
12414.22
10518.26
8156.03
7950.84
8166.23
8293.4
8386.88
8350.79
8166.38
8042.96
standard dev.
279.94
218.12
625.13
1300.81
1338.25
1916.72
2040.97
2076.38
1706.52
1647.6
1441.39
1599.69
2006.24
1213.95
1328.58
1376.44
1433.31
1456.47
1492.19
1577.74
1668.82
ci. min. 90%
472.45
1323.38
2264.32
3059.07
5414.7
6986.29
7809.51
8805.26
10330.96
11221.3
12028.99
12069.1
10102.94
7851.96
7618.06
7821.47
7934.39
8022.07
7977.04
7771.19
7624.96
ci. max. 90%
1006.24
1576.26
2832.9
4064.97
6330.53
8175.49
8976.2
9911.56
11185.83
12002.59
12679.53
12759.33
10933.58
8460.09
8283.61
8511.0
8652.41
8751.68
8724.54
8561.56
8460.95
geom. mean
682.22
1436.43
2459.94
3306.14
5723.73
7316.43
8094.8
9124.37
10619.56
11483.05
12262.17
12302.65
10286.99
8043.52
7807.63
8010.92
8126.4
8214.82
8171.66
7959.48
7819.8
median
787.48
1320.99
2641.97
3719.2
5722.96
7404.6
8334.88
9086.22
10759.99
11936.75
12987.41
13039.43
11292.45
8664.91
8522.08
8748.55
8866.73
8898.47
8930.59
8792.76
8830.55
first quartile
660.49
1320.99
2275.11
2996.6
4872.05
6255.99
7474.36
8099.1
9602.22
11044.1
11614.1
11377.41
9367.77
8238.86
7785.97
8330.71
8497.36
8621.84
8564.45
8461.73
8058.85
third quartile
974.91
1574.95
2641.97
3906.76
6933.98
9403.63
9637.14
10994.74
12059.33
12969.38
13160.61
13406.73
11905.48
8818.04
8668.49
8889.5
9043.73
9118.76
9100.53
9029.86
9088.1
minimum
298.95
1269.8
980.99
1300.24
3458.1
2915.86
3014.83
5812.41
6900.73
7146.5
8097.87
8839.87
5490.91
4950.53
3727.45
3640.82
3616.33
3621.08
3613.99
3597.58
3609.36
maximum
974.91
1949.81
3899.63
6299.81
8795.1
11445.91
12364.45
12802.68
14275.77
13892.89
14232.38
14679.48
13321.05
9052.37
8947.31
9214.01
9349.58
9386.93
9492.46
9258.33
9367.32
baseline set1 difference
0.0 %
0.06 %
0.0 %
-4.08 %
0.0 %
-2.16 %
0.0 %
-1.73 %
2.31 %
1.14 %
6.19 %
1.85 %
-0.2 %
0.19 %
0.64 %
1.87 %
0.83 %
1.64 %
0.48 %
0.15 %
-0.4 %
ttest p-value
0.7054
0.3244
0.7743
0.1832
0.609
0.5456
0.6588
0.5583
0.7831
0.3645
0.1473
0.8624
0.6563
0.9971
0.7677
0.8438
0.9975
0.7092
0.8743
0.934
0.7705
ttest equality
SAME
SAME
SAME
SAME
SAME
SAME
SAME
SAME
SAME
SAME
SAME
SAME
SAME
SAME
SAME
SAME
SAME
SAME
SAME
SAME
SAME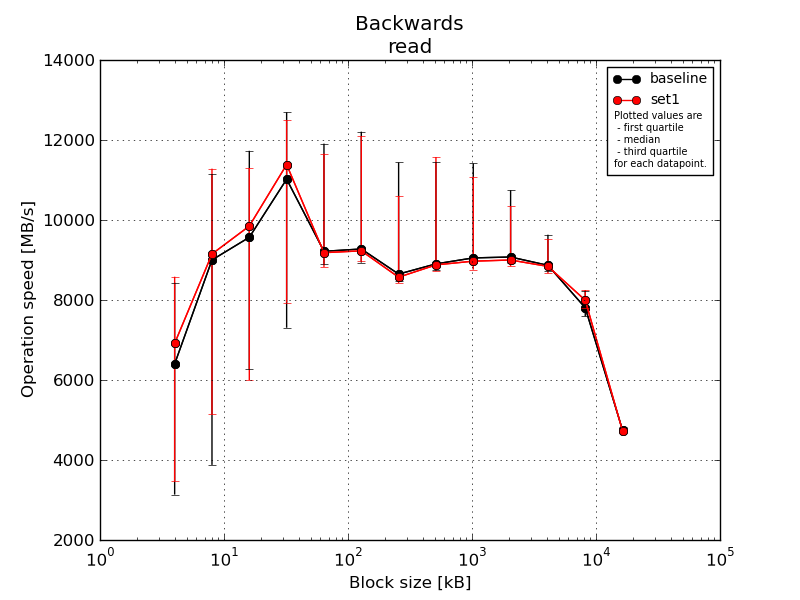 Backwards read
Block size [kB]
4
8
16
32
64
128
256
512
1024
2048
4096
8192
16384
baseline
mean val.
5862.82
7926.43
8770.1
9859.44
9910.3
10179.15
9661.62
9960.02
10049.31
9936.64
9487.05
8012.26
4633.72
standard dev.
2914.37
3792.77
3553.99
3466.14
2394.15
2204.94
1952.71
1788.75
1731.74
1668.66
1590.22
1023.15
561.77
ci. min. 90%
5259.5
7108.19
7968.1
9037.62
9478.4
9768.85
9286.04
9603.57
9690.81
9576.64
9128.19
7769.68
4493.01
ci. max. 90%
6466.14
8744.67
9572.11
10681.26
10342.2
10589.45
10037.2
10316.47
10407.81
10296.63
9845.9
8254.85
4774.43
geom. mean
4715.56
6565.34
7754.85
8940.44
9591.5
9942.07
9475.94
9810.65
9909.4
9814.58
9370.41
7950.41
4597.96
median
6401.34
9000.91
9567.24
11020.23
9217.43
9275.63
8648.06
8903.03
9052.37
9074.59
8866.68
7804.32
4743.19
first quartile
3135.27
3877.22
6263.26
7306.05
8900.89
8936.74
8469.77
8761.34
8913.17
8914.63
8714.54
7592.39
4696.63
third quartile
8432.41
11148.46
11729.84
12692.14
11908.82
12208.19
11438.31
11444.18
11413.83
10744.07
9632.04
8234.76
4825.13
minimum
298.95
1269.8
980.99
1300.24
2915.86
5200.98
5553.73
6142.62
5986.75
8534.28
6191.11
5317.57
3597.58
maximum
9780.33
13138.99
13380.0
14261.45
14679.48
14213.13
13289.91
13374.66
13600.08
13536.53
13201.02
11268.17
5588.3
set1
mean val.
5862.82
7926.43
8770.1
9859.44
9910.3
10179.15
9661.62
9960.02
10049.31
9936.64
9487.05
8012.26
4633.72
standard dev.
2914.37
3792.77
3553.99
3466.14
2394.15
2204.94
1952.71
1788.75
1731.74
1668.66
1590.22
1023.15
561.77
ci. min. 90%
5259.5
7108.19
7968.1
9037.62
9478.4
9768.85
9286.04
9603.57
9690.81
9576.64
9128.19
7769.68
4493.01
ci. max. 90%
6466.14
8744.67
9572.11
10681.26
10342.2
10589.45
10037.2
10316.47
10407.81
10296.63
9845.9
8254.85
4774.43
geom. mean
4715.56
6565.34
7754.85
8940.44
9591.5
9942.07
9475.94
9810.65
9909.4
9814.58
9370.41
7950.41
4597.96
median
6401.34
9000.91
9567.24
11020.23
9217.43
9275.63
8648.06
8903.03
9052.37
9074.59
8866.68
7804.32
4743.19
first quartile
3135.27
3877.22
6263.26
7306.05
8900.89
8936.74
8469.77
8761.34
8913.17
8914.63
8714.54
7592.39
4696.63
third quartile
8432.41
11148.46
11729.84
12692.14
11908.82
12208.19
11438.31
11444.18
11413.83
10744.07
9632.04
8234.76
4825.13
minimum
298.95
1269.8
980.99
1300.24
2915.86
5200.98
5553.73
6142.62
5986.75
8534.28
6191.11
5317.57
3597.58
maximum
9780.33
13138.99
13380.0
14261.45
14679.48
14213.13
13289.91
13374.66
13600.08
13536.53
13201.02
11268.17
5588.3
baseline set1 difference
-7.44 %
-1.63 %
-2.85 %
-3.2 %
0.38 %
0.51 %
0.91 %
0.29 %
0.91 %
0.84 %
0.3 %
-2.37 %
0.4 %
ttest p-value
0.6512
0.8216
0.9555
0.698
0.8323
0.9426
0.4035
0.9551
0.4061
0.5207
0.9521
0.2269
0.3376
ttest equality
SAME
SAME
SAME
SAME
SAME
SAME
SAME
SAME
SAME
SAME
SAME
SAME
SAME
Back on top
---
Record rewrite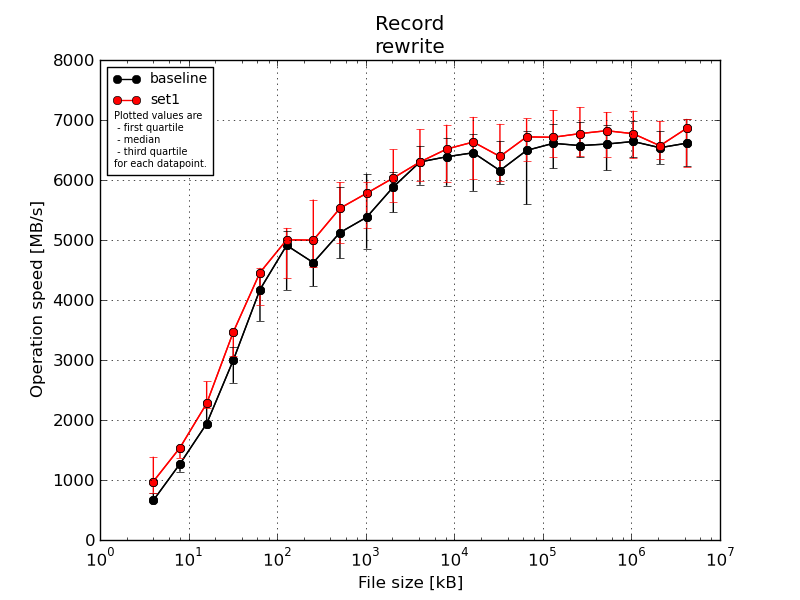 Record rewrite
File size [kB]
4
8
16
32
64
128
256
512
1024
2048
4096
8192
16384
32768
65536
131072
262144
524288
1048576
2097152
4194304
baseline
mean val.
695.06
1142.07
2060.41
2939.61
3840.81
4650.39
4661.97
5170.3
5427.74
5771.62
6162.23
6241.43
6072.0
5913.03
6100.81
6222.4
6256.58
6239.19
6311.85
6164.71
6217.73
standard dev.
212.81
297.89
227.59
425.32
900.31
699.08
634.07
727.69
740.11
654.31
663.02
700.59
1104.19
1138.5
1228.47
1250.85
1265.79
1243.7
1258.87
1274.97
1286.57
ci. min. 90%
492.17
969.39
1956.91
2775.16
3532.75
4433.52
4480.74
4976.44
5242.36
5616.48
6012.61
6090.29
5843.41
5627.86
5793.11
5909.1
5939.53
5927.67
5996.53
5845.36
5895.48
ci. max. 90%
897.94
1314.75
2163.91
3104.06
4148.88
4867.26
4843.2
5364.15
5613.11
5926.75
6311.85
6392.57
6300.58
6198.19
6408.51
6535.71
6573.63
6550.7
6627.16
6484.05
6539.99
geom. mean
666.23
1076.91
2049.43
2909.04
3709.18
4594.8
4619.93
5117.73
5376.14
5733.01
6125.29
6200.03
5947.14
5775.91
5943.54
6059.03
6090.95
6077.97
6149.28
5991.89
6043.89
median
660.49
1269.8
1938.61
2998.37
4173.89
4910.52
4623.23
5123.87
5378.65
5883.46
6300.58
6387.32
6454.14
6157.4
6492.76
6611.16
6574.35
6598.98
6641.76
6537.99
6613.73
first quartile
660.49
1137.55
1938.61
2618.72
3650.74
4167.44
4231.44
4693.94
4855.61
5462.91
5921.51
5904.3
5818.45
5931.28
5592.43
6191.94
6375.62
6159.85
6390.73
6266.35
6226.43
third quartile
787.48
1269.8
2236.94
3218.2
4457.8
5151.35
4997.84
5877.57
6098.09
6128.42
6567.37
6703.47
6767.87
6650.1
6813.63
6927.12
6966.75
6918.38
6984.37
6813.97
7017.9
minimum
391.91
325.06
1733.5
2086.94
1682.51
2852.4
3289.08
3267.58
3877.13
3922.1
4524.84
4400.69
3073.34
3149.93
2908.96
2910.41
2949.99
2935.97
3004.95
2873.24
2866.46
maximum
974.91
1320.99
2641.97
3466.99
4783.15
5710.84
5930.67
6496.64
6756.23
7015.03
7507.24
7345.85
7596.82
7497.44
7556.92
7639.48
8064.04
7705.03
7757.4
7684.2
7689.14
set1
mean val.
695.06
1142.07
2060.41
2939.61
3840.81
4650.39
4661.97
5170.3
5427.74
5771.62
6162.23
6241.43
6072.0
5913.03
6100.81
6222.4
6256.58
6239.19
6311.85
6164.71
6217.73
standard dev.
212.81
297.89
227.59
425.32
900.31
699.08
634.07
727.69
740.11
654.31
663.02
700.59
1104.19
1138.5
1228.47
1250.85
1265.79
1243.7
1258.87
1274.97
1286.57
ci. min. 90%
492.17
969.39
1956.91
2775.16
3532.75
4433.52
4480.74
4976.44
5242.36
5616.48
6012.61
6090.29
5843.41
5627.86
5793.11
5909.1
5939.53
5927.67
5996.53
5845.36
5895.48
ci. max. 90%
897.94
1314.75
2163.91
3104.06
4148.88
4867.26
4843.2
5364.15
5613.11
5926.75
6311.85
6392.57
6300.58
6198.19
6408.51
6535.71
6573.63
6550.7
6627.16
6484.05
6539.99
geom. mean
666.23
1076.91
2049.43
2909.04
3709.18
4594.8
4619.93
5117.73
5376.14
5733.01
6125.29
6200.03
5947.14
5775.91
5943.54
6059.03
6090.95
6077.97
6149.28
5991.89
6043.89
median
660.49
1269.8
1938.61
2998.37
4173.89
4910.52
4623.23
5123.87
5378.65
5883.46
6300.58
6387.32
6454.14
6157.4
6492.76
6611.16
6574.35
6598.98
6641.76
6537.99
6613.73
first quartile
660.49
1137.55
1938.61
2618.72
3650.74
4167.44
4231.44
4693.94
4855.61
5462.91
5921.51
5904.3
5818.45
5931.28
5592.43
6191.94
6375.62
6159.85
6390.73
6266.35
6226.43
third quartile
787.48
1269.8
2236.94
3218.2
4457.8
5151.35
4997.84
5877.57
6098.09
6128.42
6567.37
6703.47
6767.87
6650.1
6813.63
6927.12
6966.75
6918.38
6984.37
6813.97
7017.9
minimum
391.91
325.06
1733.5
2086.94
1682.51
2852.4
3289.08
3267.58
3877.13
3922.1
4524.84
4400.69
3073.34
3149.93
2908.96
2910.41
2949.99
2935.97
3004.95
2873.24
2866.46
maximum
974.91
1320.99
2641.97
3466.99
4783.15
5710.84
5930.67
6496.64
6756.23
7015.03
7507.24
7345.85
7596.82
7497.44
7556.92
7639.48
8064.04
7705.03
7757.4
7684.2
7689.14
baseline set1 difference
-32.25 %
-17.48 %
-14.79 %
-13.52 %
-6.37 %
-1.84 %
-7.5 %
-7.33 %
-6.92 %
-2.49 %
0.0 %
-1.96 %
-2.7 %
-3.67 %
-3.36 %
-1.5 %
-2.94 %
-3.26 %
-1.92 %
-0.5 %
-3.6 %
ttest p-value
0.1884
0.0036
0.0216
0.0374
0.1632
0.8849
0.0387
0.1042
0.0945
0.0294
0.1813
0.1514
0.2226
0.3817
0.3744
0.488
0.4257
0.5241
0.5866
0.631
0.7329
ttest equality
SAME
DIFF
DIFF
DIFF
SAME
SAME
DIFF
SAME
DIFF
DIFF
SAME
SAME
SAME
SAME
SAME
SAME
SAME
SAME
SAME
SAME
SAME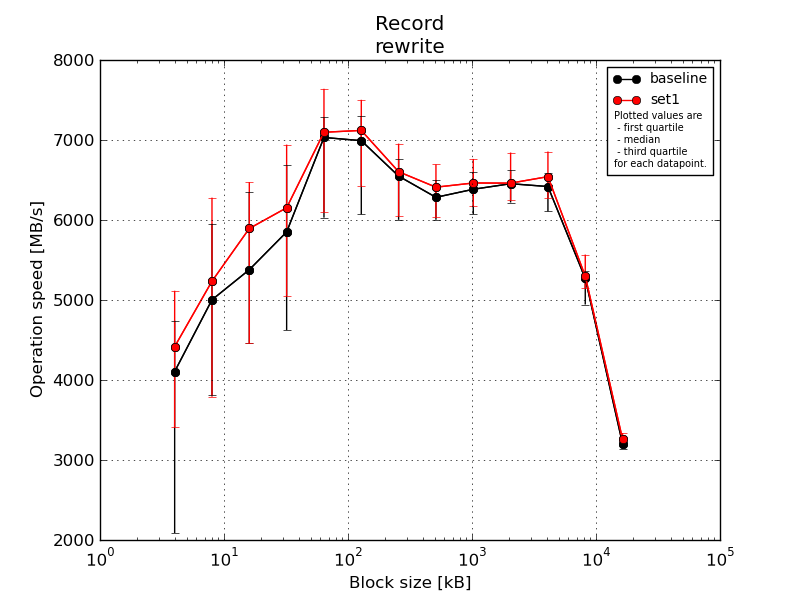 Record rewrite
Block size [kB]
4
8
16
32
64
128
256
512
1024
2048
4096
8192
16384
baseline
mean val.
3495.07
4619.46
5020.76
5571.93
6585.48
6593.86
6227.3
6121.73
6240.14
6334.38
6316.55
5149.94
3171.12
standard dev.
1542.48
1673.12
1497.92
1285.38
1047.45
1016.52
865.46
638.66
576.73
500.26
462.42
377.82
139.63
ci. min. 90%
3175.76
4258.51
4682.73
5267.16
6396.52
6404.7
6060.83
5994.46
6120.75
6226.46
6212.2
5060.36
3136.14
ci. max. 90%
3814.39
4980.41
5358.78
5876.69
6774.44
6783.02
6393.76
6249.0
6359.54
6442.31
6420.9
5239.53
3206.09
geom. mean
2968.06
4196.59
4734.3
5399.04
6489.26
6501.13
6158.19
6084.87
6209.79
6313.28
6298.37
5135.78
3168.03
median
4105.58
5002.48
5378.65
5850.4
7031.59
6991.74
6548.57
6283.47
6384.04
6453.64
6418.3
5270.57
3200.41
first quartile
2086.94
3809.73
4457.8
4623.23
6029.67
6070.67
6002.29
6003.12
6072.15
6218.57
6107.89
4943.67
3140.21
third quartile
4740.37
5953.53
6345.12
6682.02
7281.52
7299.46
6760.44
6499.27
6597.46
6622.87
6586.29
5368.39
3258.43
minimum
325.06
1137.55
1682.51
2600.49
3889.21
3289.08
3681.72
4045.41
3877.13
4750.58
4524.84
4104.66
2866.46
maximum
5598.18
6831.38
6941.48
7289.05
8064.04
7689.14
7407.89
7079.01
6855.83
7046.54
6991.89
5833.19
3389.56
set1
mean val.
3495.07
4619.46
5020.76
5571.93
6585.48
6593.86
6227.3
6121.73
6240.14
6334.38
6316.55
5149.94
3171.12
standard dev.
1542.48
1673.12
1497.92
1285.38
1047.45
1016.52
865.46
638.66
576.73
500.26
462.42
377.82
139.63
ci. min. 90%
3175.76
4258.51
4682.73
5267.16
6396.52
6404.7
6060.83
5994.46
6120.75
6226.46
6212.2
5060.36
3136.14
ci. max. 90%
3814.39
4980.41
5358.78
5876.69
6774.44
6783.02
6393.76
6249.0
6359.54
6442.31
6420.9
5239.53
3206.09
geom. mean
2968.06
4196.59
4734.3
5399.04
6489.26
6501.13
6158.19
6084.87
6209.79
6313.28
6298.37
5135.78
3168.03
median
4105.58
5002.48
5378.65
5850.4
7031.59
6991.74
6548.57
6283.47
6384.04
6453.64
6418.3
5270.57
3200.41
first quartile
2086.94
3809.73
4457.8
4623.23
6029.67
6070.67
6002.29
6003.12
6072.15
6218.57
6107.89
4943.67
3140.21
third quartile
4740.37
5953.53
6345.12
6682.02
7281.52
7299.46
6760.44
6499.27
6597.46
6622.87
6586.29
5368.39
3258.43
minimum
325.06
1137.55
1682.51
2600.49
3889.21
3289.08
3681.72
4045.41
3877.13
4750.58
4524.84
4104.66
2866.46
maximum
5598.18
6831.38
6941.48
7289.05
8064.04
7689.14
7407.89
7079.01
6855.83
7046.54
6991.89
5833.19
3389.56
baseline set1 difference
-7.05 %
-4.44 %
-8.75 %
-4.91 %
-0.92 %
-1.8 %
-0.83 %
-1.98 %
-1.22 %
-0.11 %
-1.89 %
-0.52 %
-1.82 %
ttest p-value
0.0759
0.3228
0.2323
0.291
0.2898
0.1383
0.2072
0.1949
0.1652
0.163
0.0407
0.011
0.0055
ttest equality
DIFF
SAME
SAME
SAME
SAME
SAME
SAME
SAME
SAME
SAME
DIFF
DIFF
DIFF
Back on top
---
Strided Read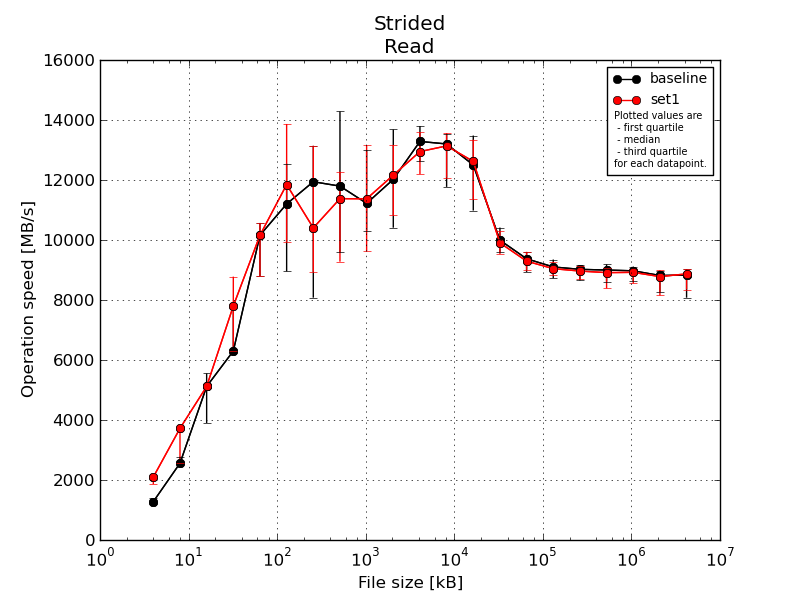 Strided Read
File size [kB]
4
8
16
32
64
128
256
512
1024
2048
4096
8192
16384
32768
65536
131072
262144
524288
1048576
2097152
4194304
baseline
mean val.
1271.39
2831.64
5009.51
6521.09
9829.99
10435.17
10801.54
11708.14
11313.57
12015.56
12893.01
12684.14
11777.03
10092.41
9231.29
8661.68
8438.2
8409.01
8359.07
8130.76
8027.27
standard dev.
469.5
795.21
1386.81
1390.79
1701.45
2528.58
2620.7
2694.41
2228.78
2331.4
1491.39
1635.95
2430.69
2308.84
2249.82
1539.72
1463.35
1466.7
1491.54
1563.43
1631.12
ci. min. 90%
823.78
2370.67
4378.83
5983.34
9247.79
9650.76
10052.5
10990.34
10755.32
11462.79
12556.46
12331.2
11273.84
9514.11
8667.77
8276.02
8071.66
8041.64
7985.48
7739.16
7618.72
ci. max. 90%
1719.01
3292.61
5640.18
7058.83
10412.19
11219.58
11550.59
12425.93
11871.82
12568.34
13229.56
13037.07
12280.23
10670.72
9794.81
9047.34
8804.73
8776.38
8732.67
8522.35
8435.83
geom. mean
1183.66
2735.45
4855.38
6329.3
9685.21
10023.81
10466.53
11388.0
11078.49
11789.53
12797.26
12568.38
11444.99
9781.23
8920.28
8474.53
8266.34
8234.02
8179.85
7927.12
7812.1
median
1279.43
2558.86
5117.72
6299.81
10158.38
11201.37
11942.0
11796.12
11220.55
12021.51
13285.67
13201.05
12499.77
9993.27
9374.45
9101.85
9022.3
8999.19
8972.84
8817.55
8828.67
first quartile
1279.43
2558.86
3899.63
6299.81
8795.1
8954.16
8078.04
9585.14
10310.34
10410.21
12621.55
11769.35
10982.0
9587.11
8934.8
8726.51
8650.64
8612.57
8632.37
8260.5
8076.22
third quartile
1387.8
2775.61
5551.22
7799.26
10567.89
12541.07
13139.11
14285.22
12993.28
13683.44
13799.41
13542.0
13481.62
10413.51
9602.48
9348.62
9164.45
9187.81
9115.75
8976.39
9020.24
minimum
549.69
1574.95
3899.63
2391.58
6933.98
2776.87
5799.46
6578.15
6062.83
6877.0
8887.15
8289.54
5042.44
4981.21
3751.73
3663.0
3666.1
3624.96
3618.68
3613.57
3625.62
maximum
1860.61
4197.96
8395.92
7799.26
12599.63
13867.96
14809.2
16669.77
15097.98
18008.81
14758.21
15007.76
14337.03
13851.44
13870.62
10826.45
9466.8
9416.77
9378.58
9175.92
9195.83
set1
mean val.
1271.39
2831.64
5009.51
6521.09
9829.99
10435.17
10801.54
11708.14
11313.57
12015.56
12893.01
12684.14
11777.03
10092.41
9231.29
8661.68
8438.2
8409.01
8359.07
8130.76
8027.27
standard dev.
469.5
795.21
1386.81
1390.79
1701.45
2528.58
2620.7
2694.41
2228.78
2331.4
1491.39
1635.95
2430.69
2308.84
2249.82
1539.72
1463.35
1466.7
1491.54
1563.43
1631.12
ci. min. 90%
823.78
2370.67
4378.83
5983.34
9247.79
9650.76
10052.5
10990.34
10755.32
11462.79
12556.46
12331.2
11273.84
9514.11
8667.77
8276.02
8071.66
8041.64
7985.48
7739.16
7618.72
ci. max. 90%
1719.01
3292.61
5640.18
7058.83
10412.19
11219.58
11550.59
12425.93
11871.82
12568.34
13229.56
13037.07
12280.23
10670.72
9794.81
9047.34
8804.73
8776.38
8732.67
8522.35
8435.83
geom. mean
1183.66
2735.45
4855.38
6329.3
9685.21
10023.81
10466.53
11388.0
11078.49
11789.53
12797.26
12568.38
11444.99
9781.23
8920.28
8474.53
8266.34
8234.02
8179.85
7927.12
7812.1
median
1279.43
2558.86
5117.72
6299.81
10158.38
11201.37
11942.0
11796.12
11220.55
12021.51
13285.67
13201.05
12499.77
9993.27
9374.45
9101.85
9022.3
8999.19
8972.84
8817.55
8828.67
first quartile
1279.43
2558.86
3899.63
6299.81
8795.1
8954.16
8078.04
9585.14
10310.34
10410.21
12621.55
11769.35
10982.0
9587.11
8934.8
8726.51
8650.64
8612.57
8632.37
8260.5
8076.22
third quartile
1387.8
2775.61
5551.22
7799.26
10567.89
12541.07
13139.11
14285.22
12993.28
13683.44
13799.41
13542.0
13481.62
10413.51
9602.48
9348.62
9164.45
9187.81
9115.75
8976.39
9020.24
minimum
549.69
1574.95
3899.63
2391.58
6933.98
2776.87
5799.46
6578.15
6062.83
6877.0
8887.15
8289.54
5042.44
4981.21
3751.73
3663.0
3666.1
3624.96
3618.68
3613.57
3625.62
maximum
1860.61
4197.96
8395.92
7799.26
12599.63
13867.96
14809.2
16669.77
15097.98
18008.81
14758.21
15007.76
14337.03
13851.44
13870.62
10826.45
9466.8
9416.77
9378.58
9175.92
9195.83
baseline set1 difference
-39.05 %
-31.24 %
0.0 %
-19.23 %
0.0 %
-5.45 %
14.81 %
3.67 %
-1.34 %
-1.15 %
2.61 %
0.49 %
-0.95 %
0.9 %
0.85 %
0.64 %
0.64 %
0.98 %
0.57 %
0.43 %
-0.48 %
ttest p-value
0.0474
0.1167
0.9442
0.0136
0.9861
0.1295
0.7898
0.4531
0.5978
0.7505
0.3114
0.8932
0.8351
0.9666
0.8108
0.8846
0.9431
0.8176
0.9142
0.8718
0.7569
ttest equality
DIFF
SAME
SAME
DIFF
SAME
SAME
SAME
SAME
SAME
SAME
SAME
SAME
SAME
SAME
SAME
SAME
SAME
SAME
SAME
SAME
SAME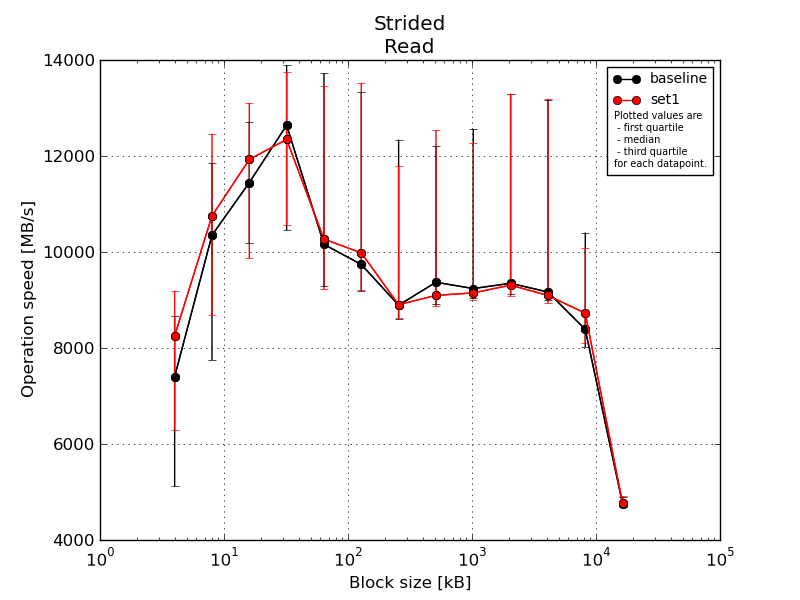 Strided Read
Block size [kB]
4
8
16
32
64
128
256
512
1024
2048
4096
8192
16384
baseline
mean val.
6693.82
9367.13
10900.12
11995.69
11303.82
11089.38
10256.2
10364.04
10366.89
10753.44
10779.63
9037.03
4640.95
standard dev.
2550.04
3094.6
2501.5
2450.21
2543.92
2687.87
2208.92
1890.28
2004.42
2060.85
2212.91
1483.47
546.72
ci. min. 90%
6165.92
8699.51
10335.62
11414.75
10844.9
10589.21
9831.34
9987.36
9951.95
10308.83
10280.26
8685.3
4504.01
ci. max. 90%
7221.71
10034.75
11464.61
12576.64
11762.74
11589.54
10681.06
10740.72
10781.84
11198.04
11279.01
9388.76
4777.89
geom. mean
5888.84
8615.89
10532.34
11700.93
11019.25
10735.86
10036.53
10202.42
10188.51
10570.57
10557.59
8910.93
4606.82
median
7404.6
10349.67
11445.91
12640.95
10158.38
9740.5
8891.3
9369.77
9238.43
9348.51
9165.25
8387.8
4752.97
first quartile
5117.72
7751.72
10182.95
10451.52
9282.09
9185.7
8608.71
8919.9
9037.33
9123.88
8999.36
8018.54
4689.41
third quartile
8668.59
11853.94
12709.68
13886.66
13721.43
13323.47
12343.24
12210.72
12561.45
13296.63
13164.89
10405.64
4894.67
minimum
549.69
2558.86
3899.63
5079.19
5980.07
2776.87
6069.79
7134.16
6010.59
8885.24
6131.39
5322.87
3613.57
maximum
10567.89
12822.67
13832.42
15556.85
16669.77
18008.81
14604.05
13987.97
14275.77
14124.54
13870.62
11444.97
5536.67
set1
mean val.
6693.82
9367.13
10900.12
11995.69
11303.82
11089.38
10256.2
10364.04
10366.89
10753.44
10779.63
9037.03
4640.95
standard dev.
2550.04
3094.6
2501.5
2450.21
2543.92
2687.87
2208.92
1890.28
2004.42
2060.85
2212.91
1483.47
546.72
ci. min. 90%
6165.92
8699.51
10335.62
11414.75
10844.9
10589.21
9831.34
9987.36
9951.95
10308.83
10280.26
8685.3
4504.01
ci. max. 90%
7221.71
10034.75
11464.61
12576.64
11762.74
11589.54
10681.06
10740.72
10781.84
11198.04
11279.01
9388.76
4777.89
geom. mean
5888.84
8615.89
10532.34
11700.93
11019.25
10735.86
10036.53
10202.42
10188.51
10570.57
10557.59
8910.93
4606.82
median
7404.6
10349.67
11445.91
12640.95
10158.38
9740.5
8891.3
9369.77
9238.43
9348.51
9165.25
8387.8
4752.97
first quartile
5117.72
7751.72
10182.95
10451.52
9282.09
9185.7
8608.71
8919.9
9037.33
9123.88
8999.36
8018.54
4689.41
third quartile
8668.59
11853.94
12709.68
13886.66
13721.43
13323.47
12343.24
12210.72
12561.45
13296.63
13164.89
10405.64
4894.67
minimum
549.69
2558.86
3899.63
5079.19
5980.07
2776.87
6069.79
7134.16
6010.59
8885.24
6131.39
5322.87
3613.57
maximum
10567.89
12822.67
13832.42
15556.85
16669.77
18008.81
14604.05
13987.97
14275.77
14124.54
13870.62
11444.97
5536.67
baseline set1 difference
-10.3 %
-3.74 %
-4.05 %
2.4 %
-1.08 %
-2.42 %
-0.13 %
3.01 %
0.99 %
0.41 %
0.78 %
-3.86 %
-0.22 %
ttest p-value
0.1412
0.1531
0.8702
0.9116
0.9616
0.9205
0.6222
0.9824
0.9354
0.8924
0.9337
0.779
0.2056
ttest equality
SAME
SAME
SAME
SAME
SAME
SAME
SAME
SAME
SAME
SAME
SAME
SAME
SAME
Back on top
---
Fwrite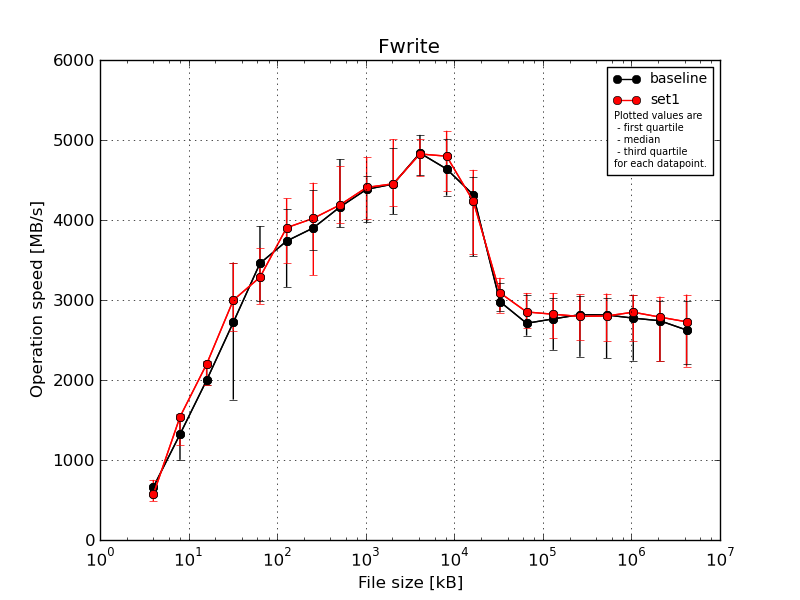 Fwrite
File size [kB]
4
8
16
32
64
128
256
512
1024
2048
4096
8192
16384
32768
65536
131072
262144
524288
1048576
2097152
4194304
baseline
mean val.
649.2
1349.37
2067.75
2620.54
3291.28
3634.53
3957.14
4264.94
4277.4
4471.61
4773.09
4616.19
4075.96
3034.19
2758.41
2696.21
2687.98
2669.84
2663.66
2596.02
2585.33
standard dev.
89.88
407.87
255.93
1004.72
905.05
903.35
566.34
620.68
648.08
613.6
594.42
500.41
567.84
212.6
348.57
386.35
421.38
422.48
431.36
466.6
453.46
ci. min. 90%
563.52
1112.93
1951.36
2232.07
2981.59
3354.3
3795.27
4099.59
4115.08
4326.13
4638.95
4508.24
3958.41
2980.94
2671.1
2599.44
2582.44
2564.02
2555.61
2479.15
2471.75
ci. max. 90%
734.89
1585.81
2184.14
3009.01
3600.97
3914.77
4119.01
4430.29
4439.73
4617.09
4907.23
4724.15
4193.51
3087.44
2845.72
2792.99
2793.53
2775.66
2771.7
2712.89
2698.91
geom. mean
644.42
1294.11
2053.28
2399.67
3135.13
3503.35
3919.17
4218.82
4222.56
4428.71
4734.96
4588.22
4035.28
3026.92
2735.02
2666.63
2652.4
2633.75
2626.21
2548.88
2541.6
median
660.49
1320.99
1997.7
2720.67
3458.1
3737.18
3900.87
4162.62
4383.65
4449.47
4836.6
4637.92
4314.9
2979.25
2708.88
2763.86
2817.03
2813.05
2773.49
2740.71
2624.58
first quartile
568.78
1001.82
1938.61
1755.42
2985.5
3163.48
3620.96
3906.72
3968.85
4075.0
4561.15
4304.72
3546.83
2866.38
2554.9
2377.06
2290.54
2275.04
2241.62
2239.13
2197.42
third quartile
660.49
1574.95
2236.94
3466.99
3923.98
4135.34
4372.61
4760.25
4550.09
4900.44
5063.8
5015.95
4539.04
3217.66
3066.02
3024.22
3046.82
3024.34
3057.76
2990.35
2984.98
minimum
568.78
866.75
1733.5
972.3
1057.86
1457.14
2906.21
2823.28
1999.38
2980.17
3305.98
3473.97
2994.62
2708.63
1857.65
1695.65
1633.91
1611.4
1613.36
1464.59
1472.75
maximum
787.48
1949.81
2641.97
3995.4
4534.92
5200.98
5553.73
5435.77
5677.14
5814.09
6341.06
5361.16
4935.27
3429.1
3245.94
3178.47
3204.12
3183.27
3192.89
3153.7
3186.75
set1
mean val.
649.2
1349.37
2067.75
2620.54
3291.28
3634.53
3957.14
4264.94
4277.4
4471.61
4773.09
4616.19
4075.96
3034.19
2758.41
2696.21
2687.98
2669.84
2663.66
2596.02
2585.33
standard dev.
89.88
407.87
255.93
1004.72
905.05
903.35
566.34
620.68
648.08
613.6
594.42
500.41
567.84
212.6
348.57
386.35
421.38
422.48
431.36
466.6
453.46
ci. min. 90%
563.52
1112.93
1951.36
2232.07
2981.59
3354.3
3795.27
4099.59
4115.08
4326.13
4638.95
4508.24
3958.41
2980.94
2671.1
2599.44
2582.44
2564.02
2555.61
2479.15
2471.75
ci. max. 90%
734.89
1585.81
2184.14
3009.01
3600.97
3914.77
4119.01
4430.29
4439.73
4617.09
4907.23
4724.15
4193.51
3087.44
2845.72
2792.99
2793.53
2775.66
2771.7
2712.89
2698.91
geom. mean
644.42
1294.11
2053.28
2399.67
3135.13
3503.35
3919.17
4218.82
4222.56
4428.71
4734.96
4588.22
4035.28
3026.92
2735.02
2666.63
2652.4
2633.75
2626.21
2548.88
2541.6
median
660.49
1320.99
1997.7
2720.67
3458.1
3737.18
3900.87
4162.62
4383.65
4449.47
4836.6
4637.92
4314.9
2979.25
2708.88
2763.86
2817.03
2813.05
2773.49
2740.71
2624.58
first quartile
568.78
1001.82
1938.61
1755.42
2985.5
3163.48
3620.96
3906.72
3968.85
4075.0
4561.15
4304.72
3546.83
2866.38
2554.9
2377.06
2290.54
2275.04
2241.62
2239.13
2197.42
third quartile
660.49
1574.95
2236.94
3466.99
3923.98
4135.34
4372.61
4760.25
4550.09
4900.44
5063.8
5015.95
4539.04
3217.66
3066.02
3024.22
3046.82
3024.34
3057.76
2990.35
2984.98
minimum
568.78
866.75
1733.5
972.3
1057.86
1457.14
2906.21
2823.28
1999.38
2980.17
3305.98
3473.97
2994.62
2708.63
1857.65
1695.65
1633.91
1611.4
1613.36
1464.59
1472.75
maximum
787.48
1949.81
2641.97
3995.4
4534.92
5200.98
5553.73
5435.77
5677.14
5814.09
6341.06
5361.16
4935.27
3429.1
3245.94
3178.47
3204.12
3183.27
3192.89
3153.7
3186.75
baseline set1 difference
16.13 %
-14.16 %
-9.14 %
-9.26 %
5.28 %
-4.27 %
-2.98 %
-0.61 %
-0.52 %
-0.08 %
0.23 %
-3.33 %
1.88 %
-3.58 %
-4.97 %
-2.06 %
0.81 %
0.46 %
-2.6 %
-1.63 %
-3.77 %
ttest p-value
0.6026
0.9181
0.8807
0.0684
0.7426
0.2417
0.6757
0.8841
0.2176
0.2689
0.7698
0.4412
0.5715
0.3567
0.0901
0.188
0.3555
0.4313
0.3011
0.56
0.9889
ttest equality
SAME
SAME
SAME
DIFF
SAME
SAME
SAME
SAME
SAME
SAME
SAME
SAME
SAME
SAME
DIFF
SAME
SAME
SAME
SAME
SAME
SAME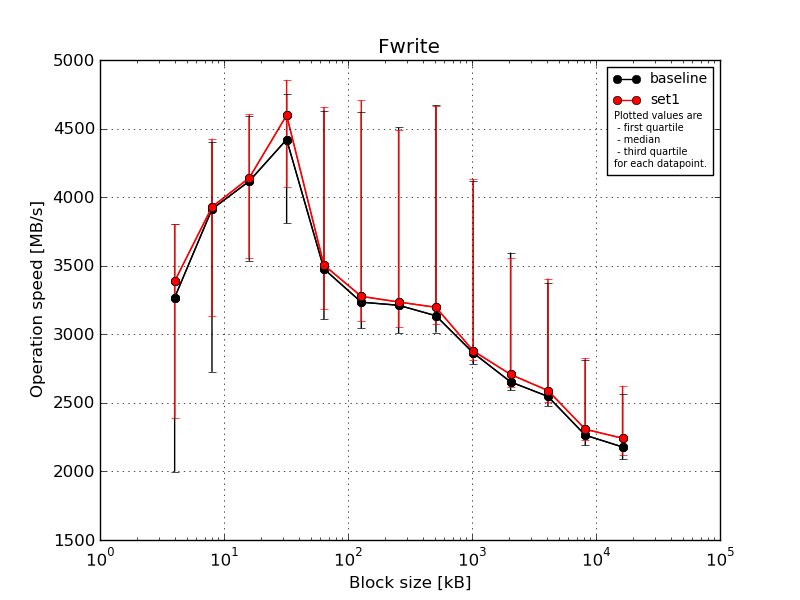 Fwrite
Block size [kB]
4
8
16
32
64
128
256
512
1024
2048
4096
8192
16384
baseline
mean val.
2932.37
3489.08
3941.63
4119.96
3868.62
3763.4
3750.65
3740.74
3381.56
3103.22
2968.09
2604.11
2265.84
standard dev.
1097.23
1204.33
915.61
959.82
859.47
889.0
839.95
885.15
875.07
867.27
1017.68
908.54
459.15
ci. min. 90%
2705.22
3229.26
3735.01
3892.38
3713.57
3597.97
3589.09
3564.36
3200.4
2916.11
2738.44
2388.7
2150.84
ci. max. 90%
3159.51
3748.89
4148.25
4347.53
4023.67
3928.83
3912.2
3917.13
3562.71
3290.32
3197.75
2819.52
2380.85
geom. mean
2622.76
3199.83
3808.96
3958.72
3776.15
3661.36
3662.01
3643.11
3279.92
3001.66
2840.03
2481.28
2220.91
median
3267.58
3912.5
4116.88
4420.17
3476.58
3234.15
3211.58
3135.1
2863.67
2652.74
2546.73
2264.23
2178.11
first quartile
1997.7
2725.62
3536.39
3810.4
3109.21
3043.04
3008.08
3012.52
2781.4
2591.33
2476.56
2189.41
2088.17
third quartile
3802.97
4403.88
4589.28
4750.11
4631.46
4623.27
4508.4
4668.7
4118.42
3595.25
3376.5
2811.63
2562.56
minimum
568.78
866.75
1545.56
1057.86
2428.05
1999.38
2503.02
2573.91
2044.59
2129.88
1966.46
1464.59
1561.29
maximum
4637.92
5263.6
5291.15
5311.93
5405.37
5435.77
5556.8
5405.71
5677.14
5814.09
6341.06
5204.81
3238.88
set1
mean val.
2932.37
3489.08
3941.63
4119.96
3868.62
3763.4
3750.65
3740.74
3381.56
3103.22
2968.09
2604.11
2265.84
standard dev.
1097.23
1204.33
915.61
959.82
859.47
889.0
839.95
885.15
875.07
867.27
1017.68
908.54
459.15
ci. min. 90%
2705.22
3229.26
3735.01
3892.38
3713.57
3597.97
3589.09
3564.36
3200.4
2916.11
2738.44
2388.7
2150.84
ci. max. 90%
3159.51
3748.89
4148.25
4347.53
4023.67
3928.83
3912.2
3917.13
3562.71
3290.32
3197.75
2819.52
2380.85
geom. mean
2622.76
3199.83
3808.96
3958.72
3776.15
3661.36
3662.01
3643.11
3279.92
3001.66
2840.03
2481.28
2220.91
median
3267.58
3912.5
4116.88
4420.17
3476.58
3234.15
3211.58
3135.1
2863.67
2652.74
2546.73
2264.23
2178.11
first quartile
1997.7
2725.62
3536.39
3810.4
3109.21
3043.04
3008.08
3012.52
2781.4
2591.33
2476.56
2189.41
2088.17
third quartile
3802.97
4403.88
4589.28
4750.11
4631.46
4623.27
4508.4
4668.7
4118.42
3595.25
3376.5
2811.63
2562.56
minimum
568.78
866.75
1545.56
1057.86
2428.05
1999.38
2503.02
2573.91
2044.59
2129.88
1966.46
1464.59
1561.29
maximum
4637.92
5263.6
5291.15
5311.93
5405.37
5435.77
5556.8
5405.71
5677.14
5814.09
6341.06
5204.81
3238.88
baseline set1 difference
-3.52 %
-0.4 %
-0.57 %
-3.84 %
-0.79 %
-1.3 %
-0.73 %
-1.93 %
-0.52 %
-2.0 %
-1.66 %
-1.88 %
-2.84 %
ttest p-value
0.8067
0.4208
0.7958
0.1458
0.7241
0.49
0.9245
0.7156
0.8238
0.5674
0.749
0.7117
0.3586
ttest equality
SAME
SAME
SAME
SAME
SAME
SAME
SAME
SAME
SAME
SAME
SAME
SAME
SAME
Back on top
---
Frewrite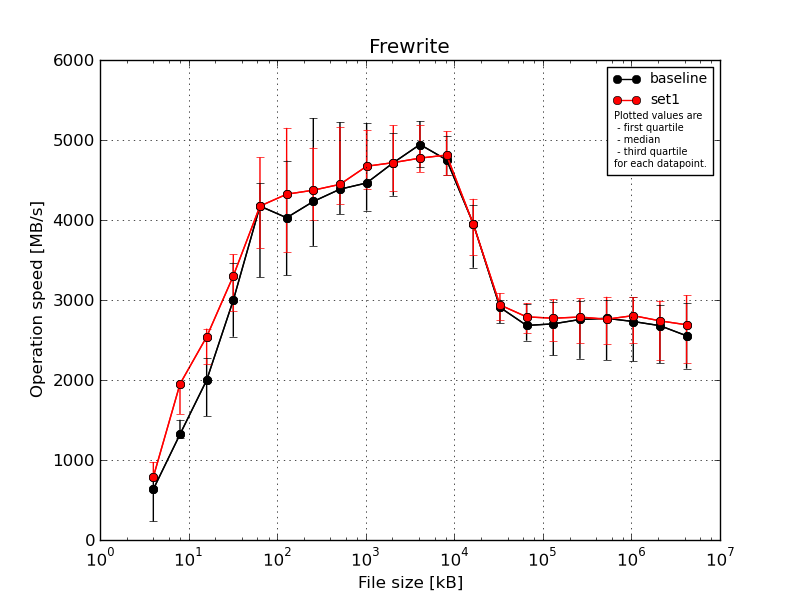 Frewrite
File size [kB]
4
8
16
32
64
128
256
512
1024
2048
4096
8192
16384
32768
65536
131072
262144
524288
1048576
2097152
4194304
baseline
mean val.
629.87
1208.12
1919.1
2959.64
3923.67
4065.2
4534.29
4671.75
4652.19
4826.06
4975.43
4754.79
3832.99
2880.17
2674.92
2656.53
2650.58
2642.25
2641.8
2563.12
2531.13
standard dev.
440.67
457.98
646.13
1148.33
1205.71
1411.33
1405.52
1083.37
929.42
909.68
650.62
426.1
459.85
198.83
319.7
370.0
406.09
413.18
425.73
457.57
468.9
ci. min. 90%
209.74
942.64
1625.26
2515.65
3511.11
3627.38
4132.57
4383.14
4419.4
4610.38
4828.61
4662.86
3737.79
2830.36
2594.84
2563.85
2548.87
2538.76
2535.16
2448.51
2413.68
ci. max. 90%
1050.0
1473.6
2212.94
3403.64
4336.24
4503.01
4936.01
4960.36
4884.99
5041.75
5122.25
4846.71
3928.19
2929.97
2755.0
2749.2
2752.3
2745.74
2748.43
2677.73
2648.57
geom. mean
502.35
1075.51
1801.47
2728.6
3680.54
3807.75
4340.25
4557.49
4570.75
4746.09
4933.59
4735.21
3805.1
2873.51
2654.64
2629.03
2617.23
2607.44
2605.11
2517.22
2484.1
median
634.9
1320.99
1997.7
2998.37
4173.89
4028.33
4231.44
4384.93
4462.95
4715.87
4943.48
4752.21
3953.44
2908.05
2681.87
2701.57
2756.39
2770.88
2731.21
2679.24
2552.54
first quartile
231.39
1269.8
1549.32
2540.61
3284.78
3308.07
3676.19
4074.05
4116.88
4302.84
4658.69
4560.39
3402.77
2709.13
2491.82
2308.26
2264.34
2250.05
2234.31
2210.34
2141.88
third quartile
787.48
1502.73
2275.11
3466.99
4457.8
4742.94
5274.91
5222.72
5211.57
5084.61
5235.85
5052.77
4190.43
3004.73
2955.01
2975.15
2990.41
2994.15
3032.01
2941.92
2958.33
minimum
216.13
287.93
782.0
1041.86
1116.43
1421.58
2384.18
2778.4
3256.94
3130.3
3424.76
3658.03
2944.43
2577.95
1844.7
1706.05
1639.05
1611.6
1603.75
1451.76
1459.22
maximum
1279.43
1574.95
3149.91
6010.91
6270.53
7732.21
8078.04
8041.05
8115.82
6968.41
6577.22
5653.84
4617.75
3345.84
3104.99
3107.56
3171.41
3120.24
3133.05
3080.74
3114.88
set1
mean val.
629.87
1208.12
1919.1
2959.64
3923.67
4065.2
4534.29
4671.75
4652.19
4826.06
4975.43
4754.79
3832.99
2880.17
2674.92
2656.53
2650.58
2642.25
2641.8
2563.12
2531.13
standard dev.
440.67
457.98
646.13
1148.33
1205.71
1411.33
1405.52
1083.37
929.42
909.68
650.62
426.1
459.85
198.83
319.7
370.0
406.09
413.18
425.73
457.57
468.9
ci. min. 90%
209.74
942.64
1625.26
2515.65
3511.11
3627.38
4132.57
4383.14
4419.4
4610.38
4828.61
4662.86
3737.79
2830.36
2594.84
2563.85
2548.87
2538.76
2535.16
2448.51
2413.68
ci. max. 90%
1050.0
1473.6
2212.94
3403.64
4336.24
4503.01
4936.01
4960.36
4884.99
5041.75
5122.25
4846.71
3928.19
2929.97
2755.0
2749.2
2752.3
2745.74
2748.43
2677.73
2648.57
geom. mean
502.35
1075.51
1801.47
2728.6
3680.54
3807.75
4340.25
4557.49
4570.75
4746.09
4933.59
4735.21
3805.1
2873.51
2654.64
2629.03
2617.23
2607.44
2605.11
2517.22
2484.1
median
634.9
1320.99
1997.7
2998.37
4173.89
4028.33
4231.44
4384.93
4462.95
4715.87
4943.48
4752.21
3953.44
2908.05
2681.87
2701.57
2756.39
2770.88
2731.21
2679.24
2552.54
first quartile
231.39
1269.8
1549.32
2540.61
3284.78
3308.07
3676.19
4074.05
4116.88
4302.84
4658.69
4560.39
3402.77
2709.13
2491.82
2308.26
2264.34
2250.05
2234.31
2210.34
2141.88
third quartile
787.48
1502.73
2275.11
3466.99
4457.8
4742.94
5274.91
5222.72
5211.57
5084.61
5235.85
5052.77
4190.43
3004.73
2955.01
2975.15
2990.41
2994.15
3032.01
2941.92
2958.33
minimum
216.13
287.93
782.0
1041.86
1116.43
1421.58
2384.18
2778.4
3256.94
3130.3
3424.76
3658.03
2944.43
2577.95
1844.7
1706.05
1639.05
1611.6
1603.75
1451.76
1459.22
maximum
1279.43
1574.95
3149.91
6010.91
6270.53
7732.21
8078.04
8041.05
8115.82
6968.41
6577.22
5653.84
4617.75
3345.84
3104.99
3107.56
3171.41
3120.24
3133.05
3080.74
3114.88
baseline set1 difference
-19.38 %
-32.25 %
-21.34 %
-9.17 %
0.0 %
-6.8 %
-3.23 %
-1.37 %
-4.47 %
-0.03 %
3.57 %
-1.25 %
0.12 %
-1.04 %
-3.84 %
-2.56 %
-1.09 %
0.4 %
-2.62 %
-2.2 %
-5.11 %
ttest p-value
0.4859
0.0032
0.035
0.2301
0.6038
0.3473
0.8453
0.7765
0.2709
0.7874
0.8484
0.498
0.3436
0.2078
0.0974
0.2506
0.2945
0.437
0.3496
0.5208
0.6154
ttest equality
SAME
DIFF
DIFF
SAME
SAME
SAME
SAME
SAME
SAME
SAME
SAME
SAME
SAME
SAME
DIFF
SAME
SAME
SAME
SAME
SAME
SAME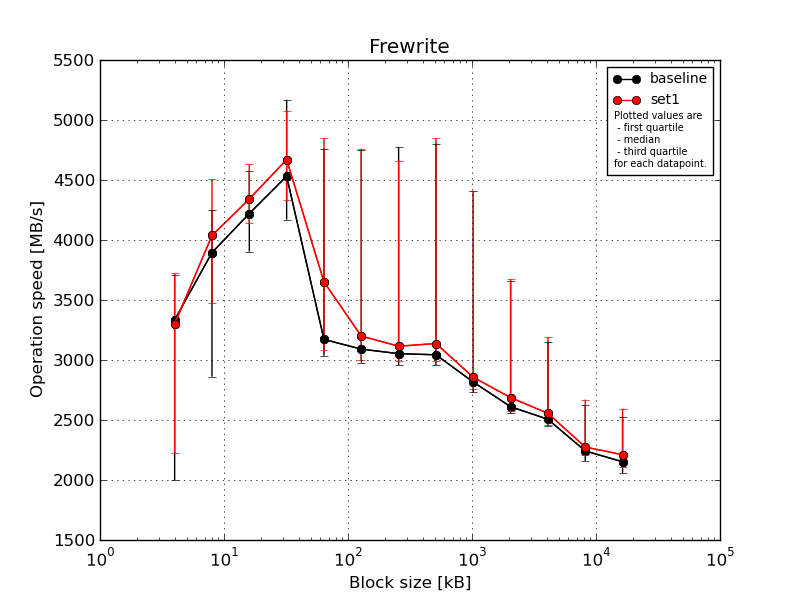 Frewrite
Block size [kB]
4
8
16
32
64
128
256
512
1024
2048
4096
8192
16384
baseline
mean val.
2877.23
3518.46
4039.27
4508.82
3949.76
3916.18
3886.09
3880.86
3554.7
3268.18
3032.03
2566.22
2295.4
standard dev.
1150.37
1080.63
1002.11
912.71
1105.1
1301.32
1186.69
1225.6
1314.19
1273.21
1163.21
885.14
528.78
ci. min. 90%
2639.09
3285.33
3813.13
4292.42
3750.4
3674.03
3657.84
3636.63
3282.64
2993.5
2769.54
2356.36
2162.96
ci. max. 90%
3115.38
3751.59
4265.41
4725.23
4149.12
4158.34
4114.34
4125.09
3826.76
3542.86
3294.53
2776.09
2427.85
geom. mean
2477.13
3252.54
3852.1
4367.0
3806.93
3723.96
3730.7
3715.89
3360.9
3074.13
2863.36
2445.45
2238.45
median
3334.62
3895.04
4220.45
4531.54
3171.41
3090.59
3052.92
3043.38
2816.24
2610.97
2505.77
2242.18
2151.97
first quartile
1997.7
2861.48
3903.8
4170.11
3035.42
2978.96
2958.56
2956.39
2729.46
2554.81
2447.61
2158.53
2056.07
third quartile
3712.26
4249.48
4578.54
5168.28
4761.89
4746.73
4775.59
4802.63
4409.95
3659.03
3154.01
2622.27
2527.26
minimum
216.13
287.93
864.53
1112.61
2311.62
1421.58
2418.47
2395.63
2062.68
1768.11
1961.41
1451.76
1551.25
maximum
4432.08
5095.11
6010.91
6270.53
7732.21
8078.04
8041.05
8115.82
6968.41
6577.22
5840.01
5137.87
3345.84
set1
mean val.
2877.23
3518.46
4039.27
4508.82
3949.76
3916.18
3886.09
3880.86
3554.7
3268.18
3032.03
2566.22
2295.4
standard dev.
1150.37
1080.63
1002.11
912.71
1105.1
1301.32
1186.69
1225.6
1314.19
1273.21
1163.21
885.14
528.78
ci. min. 90%
2639.09
3285.33
3813.13
4292.42
3750.4
3674.03
3657.84
3636.63
3282.64
2993.5
2769.54
2356.36
2162.96
ci. max. 90%
3115.38
3751.59
4265.41
4725.23
4149.12
4158.34
4114.34
4125.09
3826.76
3542.86
3294.53
2776.09
2427.85
geom. mean
2477.13
3252.54
3852.1
4367.0
3806.93
3723.96
3730.7
3715.89
3360.9
3074.13
2863.36
2445.45
2238.45
median
3334.62
3895.04
4220.45
4531.54
3171.41
3090.59
3052.92
3043.38
2816.24
2610.97
2505.77
2242.18
2151.97
first quartile
1997.7
2861.48
3903.8
4170.11
3035.42
2978.96
2958.56
2956.39
2729.46
2554.81
2447.61
2158.53
2056.07
third quartile
3712.26
4249.48
4578.54
5168.28
4761.89
4746.73
4775.59
4802.63
4409.95
3659.03
3154.01
2622.27
2527.26
minimum
216.13
287.93
864.53
1112.61
2311.62
1421.58
2418.47
2395.63
2062.68
1768.11
1961.41
1451.76
1551.25
maximum
4432.08
5095.11
6010.91
6270.53
7732.21
8078.04
8041.05
8115.82
6968.41
6577.22
5840.01
5137.87
3345.84
baseline set1 difference
1.0 %
-3.53 %
-2.8 %
-2.97 %
-13.13 %
-3.4 %
-1.99 %
-3.0 %
-1.38 %
-2.82 %
-1.94 %
-1.43 %
-2.66 %
ttest p-value
0.5077
0.0752
0.3703
0.2756
0.6652
0.8723
0.9894
0.6559
0.9381
0.6522
0.7145
0.6327
0.3941
ttest equality
SAME
DIFF
SAME
SAME
SAME
SAME
SAME
SAME
SAME
SAME
SAME
SAME
SAME
Back on top
---
Fread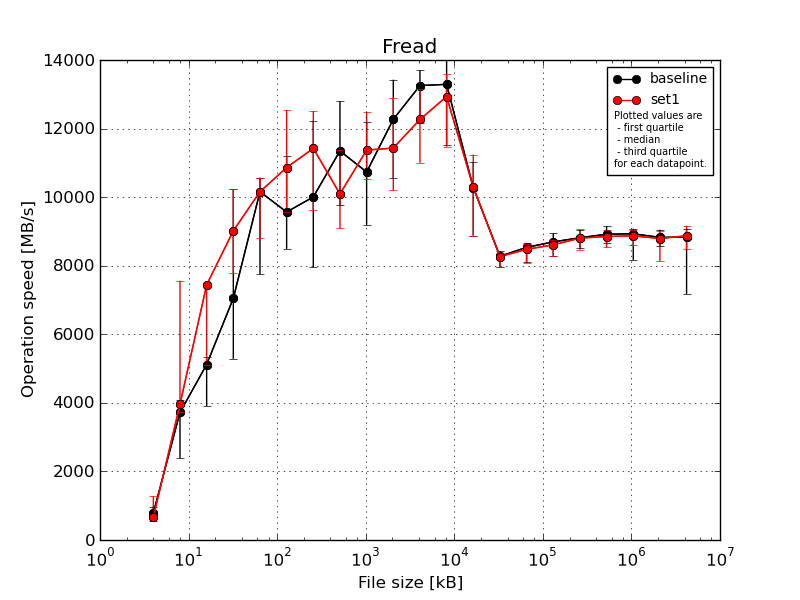 Fread
File size [kB]
4
8
16
32
64
128
256
512
1024
2048
4096
8192
16384
32768
65536
131072
262144
524288
1048576
2097152
4194304
baseline
mean val.
744.07
3288.11
4936.35
7645.3
9353.09
9537.59
9821.36
11132.18
10626.85
12011.94
12855.67
12752.77
9781.62
7817.27
7949.73
8150.42
8234.1
8420.95
8256.73
8217.21
7995.63
standard dev.
246.36
1054.28
2095.05
2664.71
2491.98
2636.93
2913.05
2099.7
1882.41
1795.56
1364.53
1518.96
1754.84
1107.32
1316.55
1398.09
1501.69
1475.19
1581.73
1601.31
1676.46
ci. min. 90%
509.2
2676.97
3983.58
6615.0
8500.39
8719.57
8988.76
10572.82
10155.36
11586.22
12547.75
12425.07
9418.34
7539.92
7619.97
7800.24
7857.97
8051.45
7860.55
7816.13
7575.72
ci. max. 90%
978.95
3899.26
5889.11
8675.6
10205.79
10355.61
10653.96
11691.55
11098.34
12437.67
13163.59
13080.47
10144.9
8094.63
8279.49
8500.61
8610.24
8790.45
8652.91
8618.3
8415.54
geom. mean
708.32
3096.51
4412.5
7254.29
8923.28
9077.04
9295.56
10915.23
10458.42
11877.11
12778.99
12659.2
9597.51
7720.14
7807.81
7991.04
8054.29
8245.36
8061.28
8005.39
7779.27
median
787.48
3721.23
5117.72
7049.54
10158.38
9566.3
10004.95
11347.88
10732.45
12267.95
13254.18
13289.94
10277.31
8275.44
8535.63
8695.14
8816.28
8918.46
8930.83
8827.25
8830.65
first quartile
549.69
2392.67
3899.63
5283.95
7754.43
8489.73
7957.3
9763.65
9181.81
10544.42
12149.72
11525.85
8879.41
7972.16
8096.18
8289.16
8522.25
8657.57
8169.44
8563.01
7177.18
third quartile
974.91
4078.78
5334.47
10235.44
10567.89
11201.37
12227.0
12802.68
12199.63
13425.95
13697.86
13989.44
11027.11
8425.57
8665.13
8939.83
9035.43
9153.15
9077.05
9050.89
9072.65
minimum
433.37
1502.73
1114.45
4550.21
2855.42
2915.86
3248.32
5007.46
6889.4
8579.01
9153.84
8782.03
5377.83
4838.98
3679.42
3641.44
3626.53
3628.74
3625.77
3606.33
3628.31
maximum
974.91
4197.96
8395.92
14884.91
12599.63
13867.96
14809.2
14788.91
13538.5
15285.21
15035.96
15204.98
12149.03
8521.87
8865.46
9143.55
9414.26
9507.7
9607.81
9384.17
9403.32
set1
mean val.
744.07
3288.11
4936.35
7645.3
9353.09
9537.59
9821.36
11132.18
10626.85
12011.94
12855.67
12752.77
9781.62
7817.27
7949.73
8150.42
8234.1
8420.95
8256.73
8217.21
7995.63
standard dev.
246.36
1054.28
2095.05
2664.71
2491.98
2636.93
2913.05
2099.7
1882.41
1795.56
1364.53
1518.96
1754.84
1107.32
1316.55
1398.09
1501.69
1475.19
1581.73
1601.31
1676.46
ci. min. 90%
509.2
2676.97
3983.58
6615.0
8500.39
8719.57
8988.76
10572.82
10155.36
11586.22
12547.75
12425.07
9418.34
7539.92
7619.97
7800.24
7857.97
8051.45
7860.55
7816.13
7575.72
ci. max. 90%
978.95
3899.26
5889.11
8675.6
10205.79
10355.61
10653.96
11691.55
11098.34
12437.67
13163.59
13080.47
10144.9
8094.63
8279.49
8500.61
8610.24
8790.45
8652.91
8618.3
8415.54
geom. mean
708.32
3096.51
4412.5
7254.29
8923.28
9077.04
9295.56
10915.23
10458.42
11877.11
12778.99
12659.2
9597.51
7720.14
7807.81
7991.04
8054.29
8245.36
8061.28
8005.39
7779.27
median
787.48
3721.23
5117.72
7049.54
10158.38
9566.3
10004.95
11347.88
10732.45
12267.95
13254.18
13289.94
10277.31
8275.44
8535.63
8695.14
8816.28
8918.46
8930.83
8827.25
8830.65
first quartile
549.69
2392.67
3899.63
5283.95
7754.43
8489.73
7957.3
9763.65
9181.81
10544.42
12149.72
11525.85
8879.41
7972.16
8096.18
8289.16
8522.25
8657.57
8169.44
8563.01
7177.18
third quartile
974.91
4078.78
5334.47
10235.44
10567.89
11201.37
12227.0
12802.68
12199.63
13425.95
13697.86
13989.44
11027.11
8425.57
8665.13
8939.83
9035.43
9153.15
9077.05
9050.89
9072.65
minimum
433.37
1502.73
1114.45
4550.21
2855.42
2915.86
3248.32
5007.46
6889.4
8579.01
9153.84
8782.03
5377.83
4838.98
3679.42
3641.44
3626.53
3628.74
3625.77
3606.33
3628.31
maximum
974.91
4197.96
8395.92
14884.91
12599.63
13867.96
14809.2
14788.91
13538.5
15285.21
15035.96
15204.98
12149.03
8521.87
8865.46
9143.55
9414.26
9507.7
9607.81
9384.17
9403.32
baseline set1 difference
19.23 %
-6.02 %
-31.24 %
-21.82 %
0.0 %
-11.95 %
-12.4 %
12.44 %
-5.63 %
7.32 %
8.06 %
2.75 %
-0.12 %
0.1 %
0.69 %
0.98 %
0.14 %
0.76 %
0.66 %
0.41 %
-0.5 %
ttest p-value
0.4934
0.0878
0.0511
0.1298
0.9285
0.0092
0.1998
0.0491
0.0189
0.178
0.0082
0.2795
0.8242
0.9817
0.912
0.9488
0.7985
0.7505
0.5848
0.9209
0.5764
ttest equality
SAME
DIFF
DIFF
SAME
SAME
DIFF
SAME
DIFF
DIFF
SAME
DIFF
SAME
SAME
SAME
SAME
SAME
SAME
SAME
SAME
SAME
SAME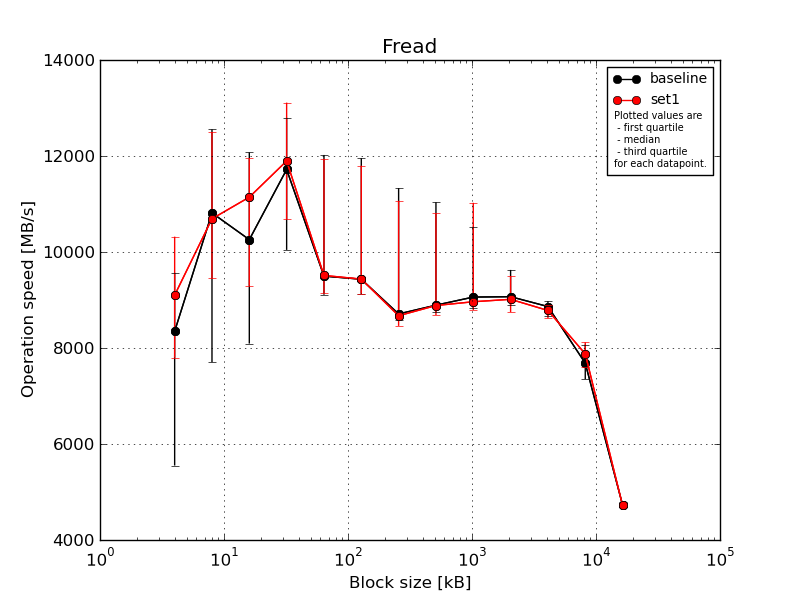 Fread
Block size [kB]
4
8
16
32
64
128
256
512
1024
2048
4096
8192
16384
baseline
mean val.
7456.88
9783.7
9794.43
11447.76
10406.25
10459.33
9968.21
10046.45
9804.3
9754.06
9217.12
7870.23
4630.03
standard dev.
2934.23
3411.07
3322.72
2321.19
2528.18
2286.66
2053.8
1968.64
1928.56
1726.13
1434.32
1225.33
528.76
ci. min. 90%
6849.45
9047.81
9044.61
10897.41
9950.17
10033.83
9573.18
9654.16
9405.05
9381.67
8893.45
7579.7
4497.59
ci. max. 90%
8064.31
10519.6
10544.25
11998.11
10862.33
10884.84
10363.24
10438.75
10203.54
10126.45
9540.79
8160.75
4762.47
geom. mean
6286.78
8977.87
8937.61
11174.69
10054.49
10200.46
9774.59
9873.72
9627.1
9619.33
9118.2
7783.56
4598.36
median
8347.78
10813.95
10257.46
11719.3
9497.32
9432.45
8709.94
8892.34
9061.08
9068.82
8863.65
7683.56
4728.31
first quartile
5551.22
7704.39
8092.17
10043.31
9109.73
9125.34
8577.82
8747.3
8837.41
8887.63
8668.42
7351.49
4688.98
third quartile
9566.18
12555.71
12074.27
12795.09
12021.81
11953.58
11331.1
11036.92
10527.8
9626.88
8974.78
8071.68
4799.4
minimum
433.37
1949.81
1114.45
4167.44
2915.86
4300.87
6889.4
7177.18
5558.19
6209.82
6132.15
5316.58
3606.33
maximum
10782.95
14685.35
14135.29
15285.21
15204.98
14788.91
14809.2
14393.49
14079.44
13512.45
13254.18
11425.49
5598.56
set1
mean val.
7456.88
9783.7
9794.43
11447.76
10406.25
10459.33
9968.21
10046.45
9804.3
9754.06
9217.12
7870.23
4630.03
standard dev.
2934.23
3411.07
3322.72
2321.19
2528.18
2286.66
2053.8
1968.64
1928.56
1726.13
1434.32
1225.33
528.76
ci. min. 90%
6849.45
9047.81
9044.61
10897.41
9950.17
10033.83
9573.18
9654.16
9405.05
9381.67
8893.45
7579.7
4497.59
ci. max. 90%
8064.31
10519.6
10544.25
11998.11
10862.33
10884.84
10363.24
10438.75
10203.54
10126.45
9540.79
8160.75
4762.47
geom. mean
6286.78
8977.87
8937.61
11174.69
10054.49
10200.46
9774.59
9873.72
9627.1
9619.33
9118.2
7783.56
4598.36
median
8347.78
10813.95
10257.46
11719.3
9497.32
9432.45
8709.94
8892.34
9061.08
9068.82
8863.65
7683.56
4728.31
first quartile
5551.22
7704.39
8092.17
10043.31
9109.73
9125.34
8577.82
8747.3
8837.41
8887.63
8668.42
7351.49
4688.98
third quartile
9566.18
12555.71
12074.27
12795.09
12021.81
11953.58
11331.1
11036.92
10527.8
9626.88
8974.78
8071.68
4799.4
minimum
433.37
1949.81
1114.45
4167.44
2915.86
4300.87
6889.4
7177.18
5558.19
6209.82
6132.15
5316.58
3606.33
maximum
10782.95
14685.35
14135.29
15285.21
15204.98
14788.91
14809.2
14393.49
14079.44
13512.45
13254.18
11425.49
5598.56
baseline set1 difference
-8.27 %
1.14 %
-7.94 %
-1.49 %
-0.15 %
-0.03 %
0.44 %
0.08 %
1.09 %
0.6 %
0.93 %
-2.46 %
0.17 %
ttest p-value
0.0962
0.2651
0.333
0.7248
0.9208
0.9653
0.4197
0.4334
0.617
0.3128
0.6377
0.5025
0.3633
ttest equality
DIFF
SAME
SAME
SAME
SAME
SAME
SAME
SAME
SAME
SAME
SAME
SAME
SAME
Back on top
---
Freread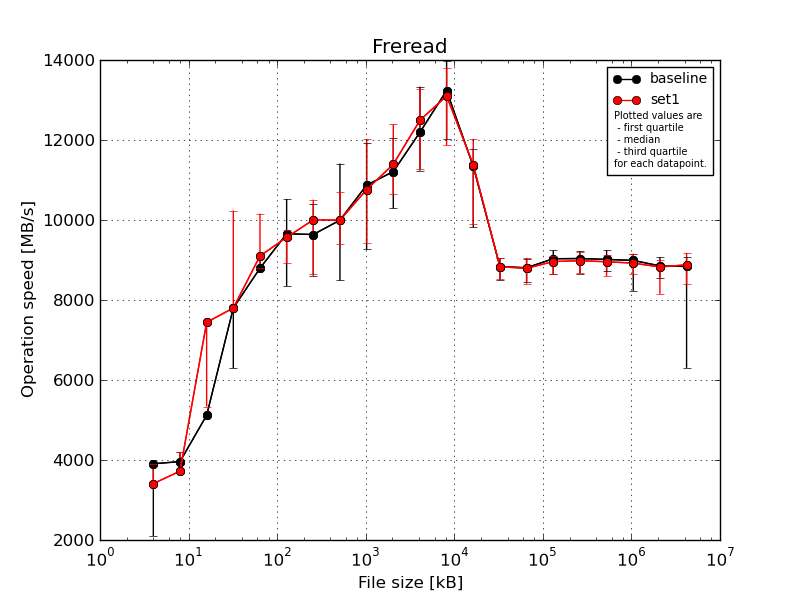 Freread
File size [kB]
4
8
16
32
64
128
256
512
1024
2048
4096
8192
16384
32768
65536
131072
262144
524288
1048576
2097152
4194304
baseline
mean val.
3019.43
4204.81
5138.71
6924.07
8731.83
9230.2
9402.06
10141.48
10699.9
11193.34
12134.32
12896.19
10632.85
8375.45
8291.94
8481.72
8427.91
8524.96
8298.08
8233.47
7986.07
standard dev.
1248.42
1360.56
1338.36
1274.43
1664.53
2548.07
1627.25
1837.49
1695.38
1440.41
1336.69
1405.56
1943.9
1302.95
1403.09
1483.99
1555.38
1502.61
1593.59
1606.44
1704.17
ci. min. 90%
1829.2
3416.12
4530.06
6431.31
8162.27
8439.75
8936.96
9651.97
10275.25
10851.82
11832.67
12592.96
10230.43
8049.1
7940.5
8110.02
8038.33
8148.59
7898.93
7831.1
7559.22
ci. max. 90%
4209.66
4993.5
5747.35
7416.82
9301.39
10020.66
9867.15
10630.99
11124.55
11534.86
12435.96
13199.42
11035.27
8701.81
8643.38
8853.42
8817.5
8901.32
8697.23
8635.85
8412.92
geom. mean
2759.69
4051.1
4908.97
6759.6
8534.96
8792.14
9239.22
9981.83
10565.16
11099.39
12056.05
12815.36
10414.22
8248.63
8136.45
8305.97
8237.51
8343.64
8100.52
8020.6
7763.44
median
3906.25
3959.59
5117.72
7799.26
8795.1
9655.2
9637.14
9995.69
10871.54
11210.26
12194.47
13235.57
11340.16
8834.88
8805.84
9031.87
9036.34
9014.9
8989.54
8852.66
8838.33
first quartile
2098.98
3721.23
5117.72
6299.81
8795.1
8347.78
8608.6
8488.61
9262.92
10289.48
11234.95
12026.2
9821.57
8492.75
8460.04
8642.23
8662.43
8717.25
8227.34
8562.16
6303.4
third quartile
3906.25
4197.96
5117.72
7799.26
9100.42
10526.67
10401.95
11410.64
11922.22
12038.74
13333.28
13979.64
11782.15
9042.0
9031.9
9239.22
9216.29
9242.86
9140.58
9069.09
9069.63
minimum
1279.43
2558.86
1567.63
2579.87
3458.1
2899.73
4036.0
7236.41
7505.84
7907.77
8265.43
8849.2
5502.17
4952.9
3776.48
3663.53
3635.43
3635.95
3655.76
3613.82
3627.55
maximum
3906.25
7812.5
7442.46
7799.26
12021.81
15981.61
13139.11
14285.22
13897.37
13600.08
13983.28
15330.02
13105.14
9531.96
9446.69
9600.39
9631.63
9654.57
9662.93
9431.62
9473.1
set1
mean val.
3019.43
4204.81
5138.71
6924.07
8731.83
9230.2
9402.06
10141.48
10699.9
11193.34
12134.32
12896.19
10632.85
8375.45
8291.94
8481.72
8427.91
8524.96
8298.08
8233.47
7986.07
standard dev.
1248.42
1360.56
1338.36
1274.43
1664.53
2548.07
1627.25
1837.49
1695.38
1440.41
1336.69
1405.56
1943.9
1302.95
1403.09
1483.99
1555.38
1502.61
1593.59
1606.44
1704.17
ci. min. 90%
1829.2
3416.12
4530.06
6431.31
8162.27
8439.75
8936.96
9651.97
10275.25
10851.82
11832.67
12592.96
10230.43
8049.1
7940.5
8110.02
8038.33
8148.59
7898.93
7831.1
7559.22
ci. max. 90%
4209.66
4993.5
5747.35
7416.82
9301.39
10020.66
9867.15
10630.99
11124.55
11534.86
12435.96
13199.42
11035.27
8701.81
8643.38
8853.42
8817.5
8901.32
8697.23
8635.85
8412.92
geom. mean
2759.69
4051.1
4908.97
6759.6
8534.96
8792.14
9239.22
9981.83
10565.16
11099.39
12056.05
12815.36
10414.22
8248.63
8136.45
8305.97
8237.51
8343.64
8100.52
8020.6
7763.44
median
3906.25
3959.59
5117.72
7799.26
8795.1
9655.2
9637.14
9995.69
10871.54
11210.26
12194.47
13235.57
11340.16
8834.88
8805.84
9031.87
9036.34
9014.9
8989.54
8852.66
8838.33
first quartile
2098.98
3721.23
5117.72
6299.81
8795.1
8347.78
8608.6
8488.61
9262.92
10289.48
11234.95
12026.2
9821.57
8492.75
8460.04
8642.23
8662.43
8717.25
8227.34
8562.16
6303.4
third quartile
3906.25
4197.96
5117.72
7799.26
9100.42
10526.67
10401.95
11410.64
11922.22
12038.74
13333.28
13979.64
11782.15
9042.0
9031.9
9239.22
9216.29
9242.86
9140.58
9069.09
9069.63
minimum
1279.43
2558.86
1567.63
2579.87
3458.1
2899.73
4036.0
7236.41
7505.84
7907.77
8265.43
8849.2
5502.17
4952.9
3776.48
3663.53
3635.43
3635.95
3655.76
3613.82
3627.55
maximum
3906.25
7812.5
7442.46
7799.26
12021.81
15981.61
13139.11
14285.22
13897.37
13600.08
13983.28
15330.02
13105.14
9531.96
9446.69
9600.39
9631.63
9654.57
9662.93
9431.62
9473.1
baseline set1 difference
14.58 %
6.41 %
-31.24 %
0.0 %
-3.36 %
0.93 %
-3.68 %
0.0 %
1.04 %
-1.6 %
-2.4 %
1.03 %
-0.34 %
0.03 %
0.17 %
0.79 %
0.6 %
0.66 %
0.75 %
0.31 %
-0.47 %
ttest p-value
0.6284
0.8958
0.0141
0.0047
0.5241
0.613
0.9842
0.8597
0.6701
0.2975
0.4805
0.8708
0.6995
0.9271
0.8876
0.9409
0.8023
0.7403
0.5587
0.9291
0.5517
ttest equality
SAME
SAME
DIFF
DIFF
SAME
SAME
SAME
SAME
SAME
SAME
SAME
SAME
SAME
SAME
SAME
SAME
SAME
SAME
SAME
SAME
SAME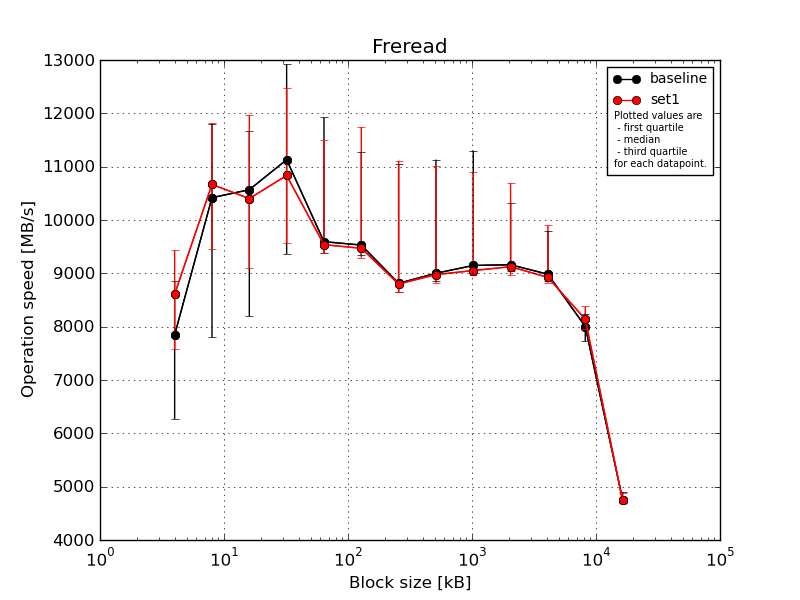 Freread
Block size [kB]
4
8
16
32
64
128
256
512
1024
2048
4096
8192
16384
baseline
mean val.
7323.58
9490.84
9973.29
10944.88
10346.3
10330.49
9806.01
9912.62
10082.26
9855.48
9633.27
8207.66
4680.49
standard dev.
2294.82
3187.83
2556.35
2347.69
2069.45
1672.79
1583.56
1622.06
1861.48
1615.92
1659.69
1444.79
556.86
ci. min. 90%
6848.51
8803.11
9396.42
10388.24
9972.98
10019.22
9501.43
9589.39
9696.91
9506.87
9258.74
7865.1
4541.01
ci. max. 90%
7798.64
10178.58
10550.17
11501.52
10719.63
10641.77
10110.59
10235.86
10467.62
10204.09
10007.8
8550.23
4819.97
geom. mean
6831.14
8749.28
9593.31
10645.14
10123.56
10204.88
9689.94
9789.36
9916.97
9738.61
9504.48
8095.81
4645.96
median
7847.95
10418.45
10567.89
11130.37
9593.69
9530.19
8812.89
9001.13
9147.74
9161.1
8982.74
8003.0
4756.25
first quartile
6270.53
7799.26
8198.22
9363.14
9386.67
9337.89
8653.24
8861.5
9008.62
9043.03
8847.55
7726.5
4700.62
third quartile
8849.2
11804.44
11666.42
12917.14
11922.22
11271.26
11047.74
11132.47
11299.27
10323.0
9791.57
8245.55
4896.69
minimum
1279.43
1567.63
4036.0
3571.3
3458.1
6314.67
7425.43
6303.4
5685.32
6188.54
6120.0
5330.17
3613.82
maximum
11208.68
14389.89
14261.45
14647.44
15981.61
14868.11
13512.45
13935.69
14261.45
14213.13
13983.28
12364.35
5734.42
set1
mean val.
7323.58
9490.84
9973.29
10944.88
10346.3
10330.49
9806.01
9912.62
10082.26
9855.48
9633.27
8207.66
4680.49
standard dev.
2294.82
3187.83
2556.35
2347.69
2069.45
1672.79
1583.56
1622.06
1861.48
1615.92
1659.69
1444.79
556.86
ci. min. 90%
6848.51
8803.11
9396.42
10388.24
9972.98
10019.22
9501.43
9589.39
9696.91
9506.87
9258.74
7865.1
4541.01
ci. max. 90%
7798.64
10178.58
10550.17
11501.52
10719.63
10641.77
10110.59
10235.86
10467.62
10204.09
10007.8
8550.23
4819.97
geom. mean
6831.14
8749.28
9593.31
10645.14
10123.56
10204.88
9689.94
9789.36
9916.97
9738.61
9504.48
8095.81
4645.96
median
7847.95
10418.45
10567.89
11130.37
9593.69
9530.19
8812.89
9001.13
9147.74
9161.1
8982.74
8003.0
4756.25
first quartile
6270.53
7799.26
8198.22
9363.14
9386.67
9337.89
8653.24
8861.5
9008.62
9043.03
8847.55
7726.5
4700.62
third quartile
8849.2
11804.44
11666.42
12917.14
11922.22
11271.26
11047.74
11132.47
11299.27
10323.0
9791.57
8245.55
4896.69
minimum
1279.43
1567.63
4036.0
3571.3
3458.1
6314.67
7425.43
6303.4
5685.32
6188.54
6120.0
5330.17
3613.82
maximum
11208.68
14389.89
14261.45
14647.44
15981.61
14868.11
13512.45
13935.69
14261.45
14213.13
13983.28
12364.35
5734.42
baseline set1 difference
-8.84 %
-2.33 %
1.6 %
2.73 %
0.59 %
0.64 %
0.16 %
0.28 %
1.05 %
0.4 %
0.66 %
-1.69 %
0.17 %
ttest p-value
0.1225
0.199
0.3466
0.7558
0.9367
0.9705
0.8094
0.7823
0.8958
0.765
0.9846
0.4549
0.41
ttest equality
SAME
SAME
SAME
SAME
SAME
SAME
SAME
SAME
SAME
SAME
SAME
SAME
SAME
Back on top
---
Baseline data set

/tmp/iozone/baseline_1.iozone
/tmp/iozone/baseline_2.iozone
/tmp/iozone/baseline_3.iozone
/tmp/iozone/baseline_4.iozone
/tmp/iozone/baseline_5.iozone

Investigated data set

/tmp/iozone/set1_1.iozone
/tmp/iozone/set1_2.iozone
/tmp/iozone/set1_3.iozone
/tmp/iozone/set1_4.iozone
/tmp/iozone/set1_5.iozone
mean => Arithmetic mean
standar dev. => Sample standard deviation
ci. max 90%, ci.min => confidence interval at confidence level 90% => it means that mean value of the distribution lies with 90% propability in interval ci_min-ci_max
geom. mean => Geometric mean
median => Second quartile = cuts data set in half = 50th percentile
first quartile => cuts off lowest 25% of data = 25th percentile
third quartile => cuts off highest 25% of data, or lowest 75% = 75th percentile
minimum => Lowest value of data set
maximum => Hightest value of data set
baseline set1 difference => Difference of medians of both sets in percennt. Arithmetic means are used in detail mode instead.
ttest p-value => Student's t-test p-value = probability the both data sets are equal
ttest equality => If p-value is higher than 0.1, data sets are considered being equal with 90% probability. Otherwise the data sets are considered being different.
Linear regression of all results regression line is in y = ax form, b coeficient is zero.
for details about operations performed see Iozone documentation